I am a pizza lover; I love all styles, types, and flavour combinations. So, when we had a pizza craving the other night, I knew I needed to make something special; we needed to make a Detroit-style pizza. The heartier cousin to the thin crust New York slice, this deep dish is packed with cheesy, doughy goodness and crusted with even more lacy, crunchy edges and corners. The great pizza debate is ongoing, and this is one of my favourites.
Detroit-Style Pizza, why so special?
The main attribute that sets this style apart from other pizza styles is the shape and how the pizza is dressed.
The pizza is baked in a rectangular pan, giving it more edges and corners to develop a thicker crust. If you're ever in a shop that sells this style, you'll often hear them ask, "Would you like a side or a corner?" referring to the two different cuts you get from the pie.
The other main difference is the way the pizza gets dressed. But a "traditional" pizza gets sauce, then meats the cheese to allow the cheese on top to melt and possibly brown, adding more flavour. A Detroit-style pizza goes cheese and meats first and topped off with sauce and sometimes a thin dusting of crumbly parm. This keeps the cheese extra gooey.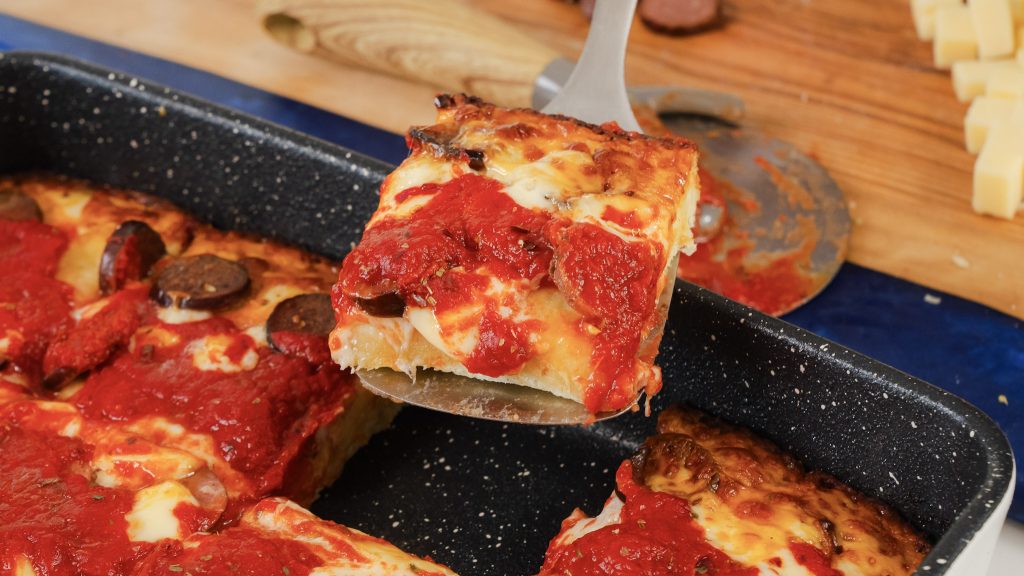 Don't rush the dough!
The key to this recipe is obesity in the dough. We want to ensure it's the best possible version, which means letting it do its thing.
This dough needs to rest and rise for 90 minutes. This will ensure that the gluten develops, and you get a light, airy dough that holds its shape and bakes evenly.
If you don't have time or simply don't want to wait, talk to the chefs at your local pizza shop; chances are they sell dough balls that will work just as well!
The world is your pizza; make it your own!
We can throw tradition out the window. I love red sauce, cheese and pep as much as the next guy, but we can do more!
Think about the ingredients you love and the other flavours that go well with them; chances are it'll work just fine on a pizza!
If you can't think of some different options, here are a few great options:
Hawaiian – Roasted pineapple, ham and mozzarella
Mediterranean– Olives, peppers, red onion, feta
White pizza – Roasted mushrooms, cream sauce and leek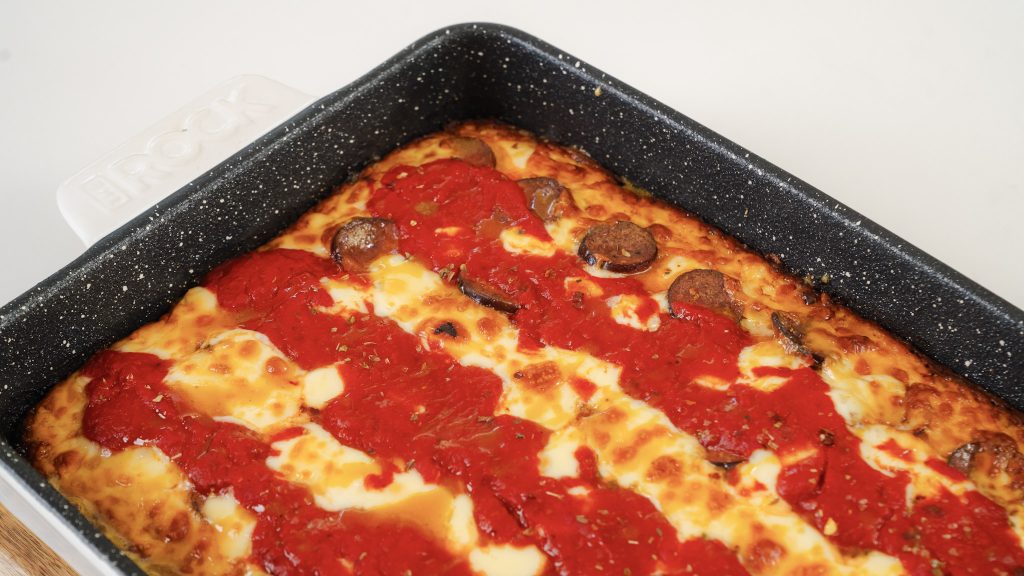 Other recipes we think you should check out!
If pizza is your thing, here are a few other ECK classics you gotta check out!
Detroit-Style Pizza
Print Recipe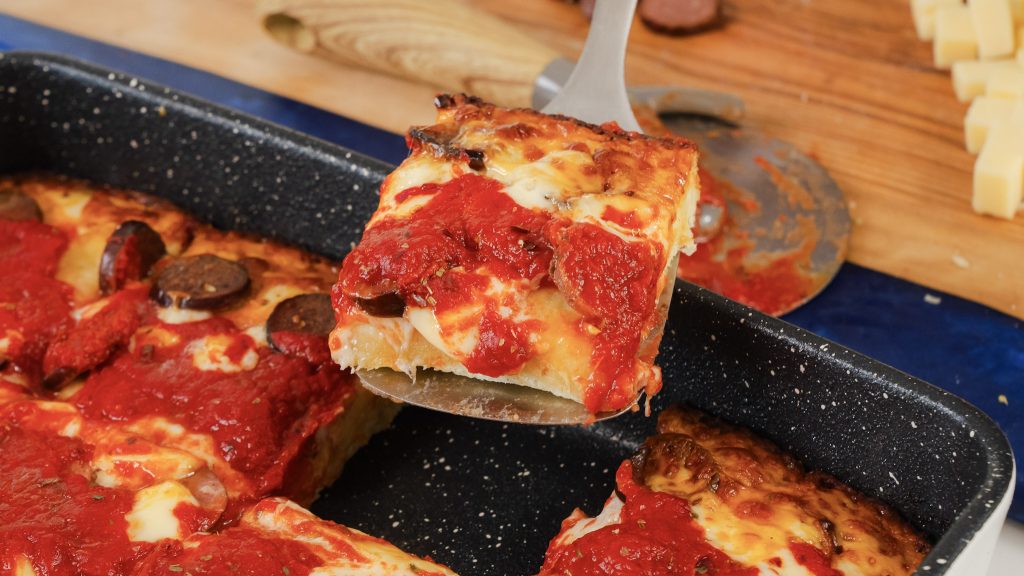 Ingredients
For the dough
2

cups

Bread flour

Plus 1/4 cup for dusting

1

tsp

Dry active yeast

1 1/2

tsp

Salt

2

tbs

Olive oil

1

cup

Water
For the toppings
Peperoni

sliced thin

Mozzarella

Cubed

Tomato sauce

(canned or bottled)
Instructions
Into a large bowl add 2 cups of bread flour. Making sure to have about 1/4 cup on reserve for dusting. Add in dry active year, salt, olive oil and 1 cup of warm water.

Mix until a loose ams shaggy dough has formed.

Dust your work surface with the extra flour and begin to knead your dough. If your dough is seeming very wet and sticky, simply dust more flour and keep kneading until it becomes nice and smooth (10min).

Once your dough is smooth, place it in a large bowl that has been greased with oil. Allow it to sit in a warm place for 90min or until it has doubled in size.

Once your dough had risen, place it into an oiled 13×9 inch pan. Use the tips of your fingers to push the dough into the corners of the pan.

Take your toppings and place your cheese and meats around the edges and middle of your dough. If your cubes mozzarella is right up against the sides of the pan, it will bake into a cheesy, crunchy crust! Finish with the sauce and place into a 500F oven for 20-25 or until golden brown.
Print Recipe
(Visited 2,543 times, 1 visits today)