We make lots of pizza here in the East Coast Kitchen! This mushroom and 3 cheese pizza is fresh, bright, and a wonderful compliment to a more traditional tomato sauce based pizza. I love the flavours of the mushrooms singing through here. Take this or leave it, but this is my wife's favourite pizza!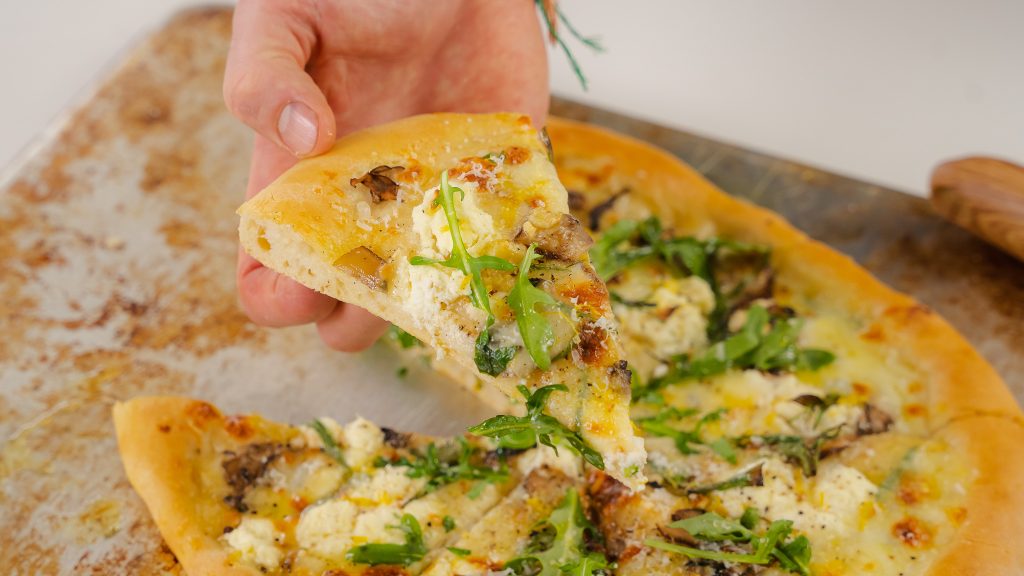 Pizza dough
Making your own pizza dough is always fun, but don't beat yourself up about buying premade dough from the grocery store or your local pizza spot.. I do it all the time. If you are feeling up to the fun challenge, you can whip up your own easily! Check out my full step by step blog here on how to make pizza dough.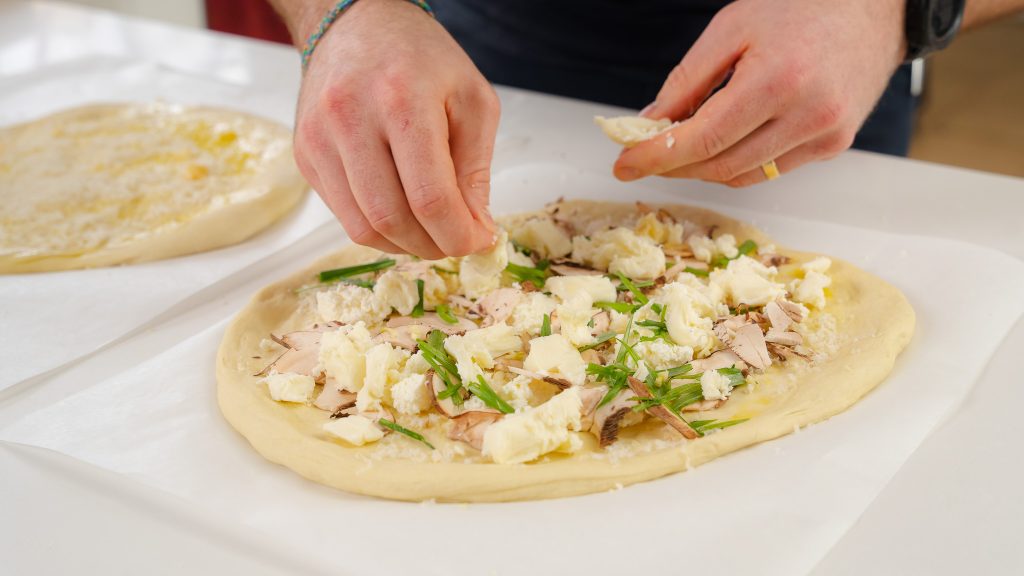 Let's breakdown the ingredients
Here is what you are going to need to make this Mushroom and 3 cheese white pizza.
Parmesan cheese
Ricotta
Fresh mozzarella
Portobella mushrooms
Green onions
Arugula
Lemon Zest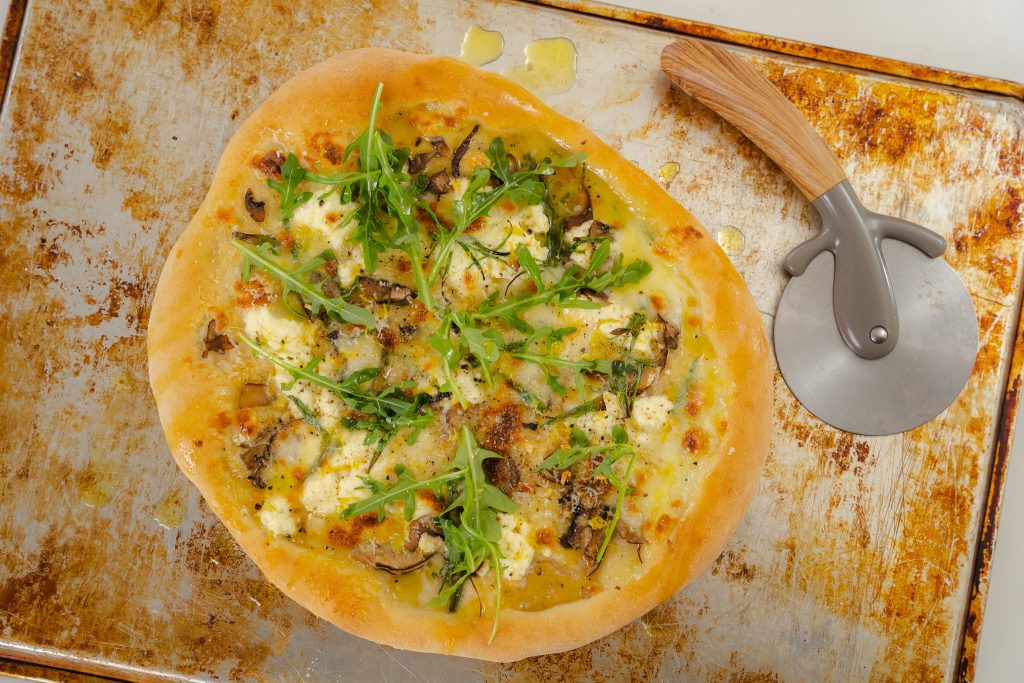 Process of baking your homemade Pizza
While you are prepping your pizza, start preheating your oven to it's max temperature. Also, toss a pizza stone in there to absorb that heat. You want a ripping hot pizza stone for a nice crispy bottom.
Quick tip on building your pizza. Be sure to roll out your dough and build your pizza on top of a piece of parchment paper. This makes the process of sliding the pizza into the oven SO much easier.
Once you are ready to cook the pizza, slide the pizza and parchment paper onto a pizza peel or an upside down baking sheet. From here slide the pizza onto the ripping hot pizza stone and shut the door of the oven. After about 60-90 seconds open the oven door and gently pull the parchment paper out from underneath the pizza.
Continue baking the pizza for about another 8-9 minutes. Sometimes I like to finish under the broiler for a bit more colour.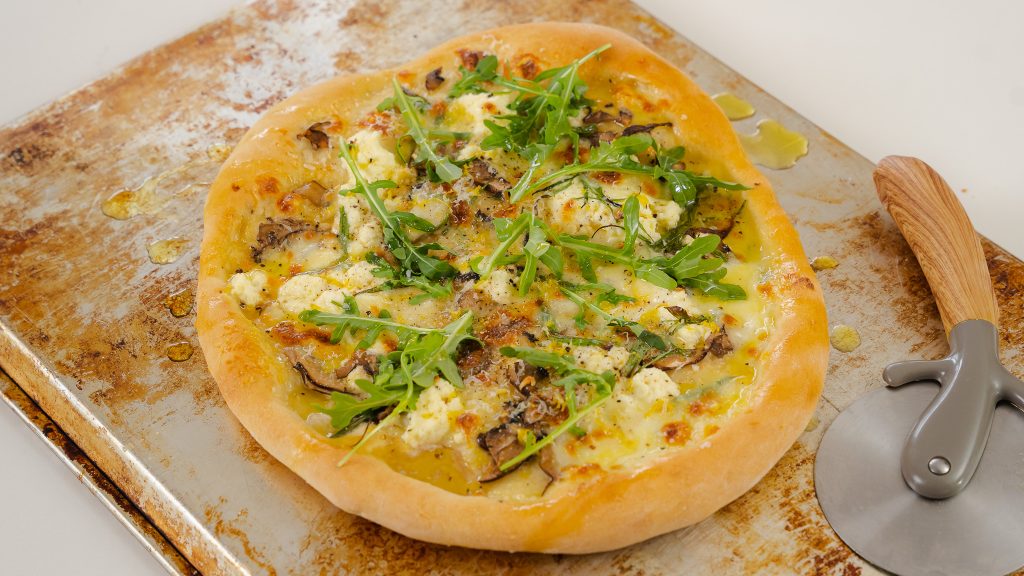 Other Fun Pizza recipes to check out.
Prosciutto Peach Goat Cheese Pizza
This Boursin, Broccoli, Mushroom, White Pizza
Mushroom 3 cheese pizza
Print Recipe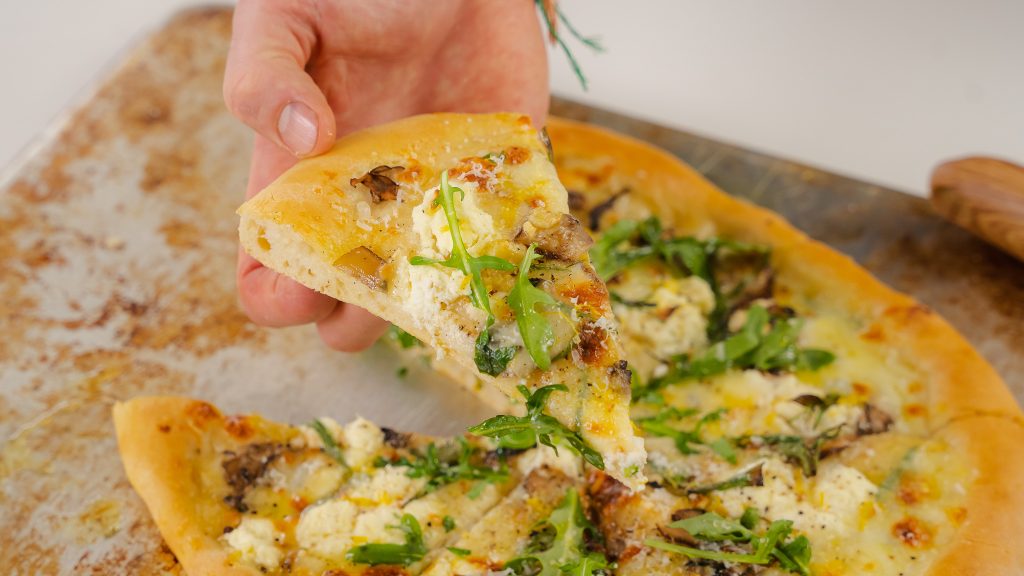 Ingredients
2

balls

Pizza Dough

1-2

Portobellos diced

1/4

cup

parmesan cheese

3/4

cup

ricotta cheese, excess liquid drained

1/2

cup

green onions

1

cup

fresh mozzarella, torn

2

tbs

olive oil
Toppings
2

tbs

parmesan

1

Zest of a lemon

2

tsp

black pepper

2

tsp

olive oil
Instructions
Preheat oven to 500F. Place a pizza stone in oven and allow to come to temperature

Next up let's get rolling with the dough. Gently stretch out the dough with both of your hands. I like to hold the dough like a steering wheel and allow the dough to pass through my hands with the weight of the dough stretching it self out. Lay the circle of dough onto a piece of parchment paper and slide an upside down baking sheet or pizza peel underneath the parchment paper.

Ok now lets dress these pizzas. I added a little bit of olive oil, followed by parmesan, mushrooms, ricotta, mozzarella, green onions.

Open the oven and slide the pizza on the parchment paper onto the pizza stone and shut the oven door. Allow the pizza to bake for 60-90 seconds and then open the door and carefully remove the parchment paper. Close oven door and allow pizza to bake for another 8-9 minutes. You can also turn on the broiler at. the end to add some additional colour to the top of the pizza.

Remove pizza from oven and drizzle on some olive oil, lemon zest, parmesan, black pepper, and arugula.
Print Recipe
(Visited 2,898 times, 1 visits today)