This one is just so much fun folks. These DIY Pizza Pockets are perfect for lunch boxes, parties or for sparking that child-like flame! With a quick and easy dough recipe (with a little dollop of Greek yogurt for added protein), these guys come together quickly and are guaranteed to be a family favourite. It's safe to say these might be a standard recipe in my household!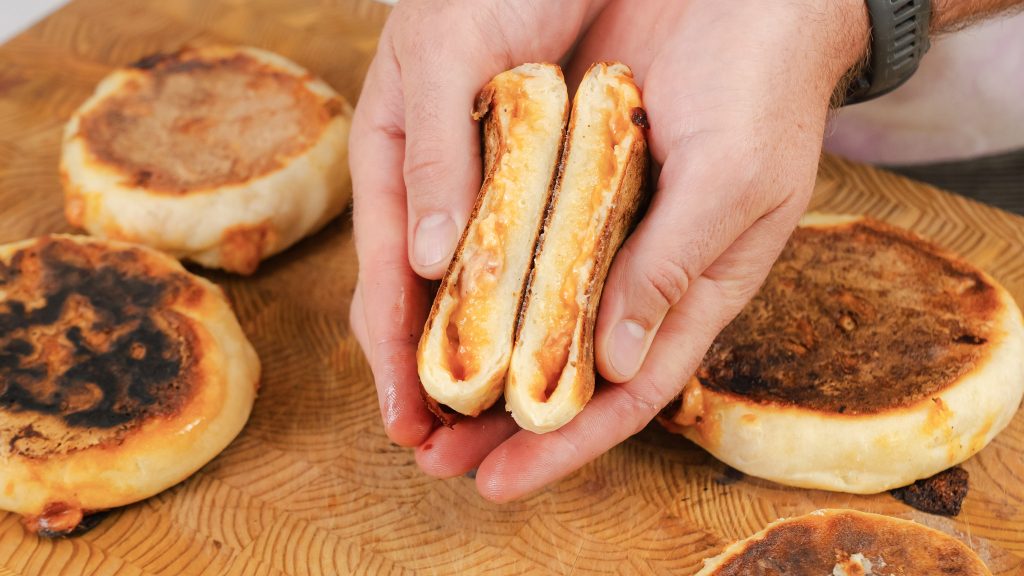 Key Ingredients for these DIY Pizza Pockets
For a recipe like this, we gotta break down the dough, understand it and make it perfect every time!
We used Greek yogurt in this dough. It acts as the main binder and hydrator of the recipe. It has a great body that adds great texture and a light tang, which is always welcome in my recipes.
Using Greek yogurt is a fabulous way to add extra protein to your everyday diet!
When it comes to the cheese, we used a generic store-bought mozzarella cheese. If you want to buy some beautiful local or imported cheese, please feel free! Just ensure it has a lower moisture content so the inside of your pizza pocket is ooey-gooey and not sad and wet.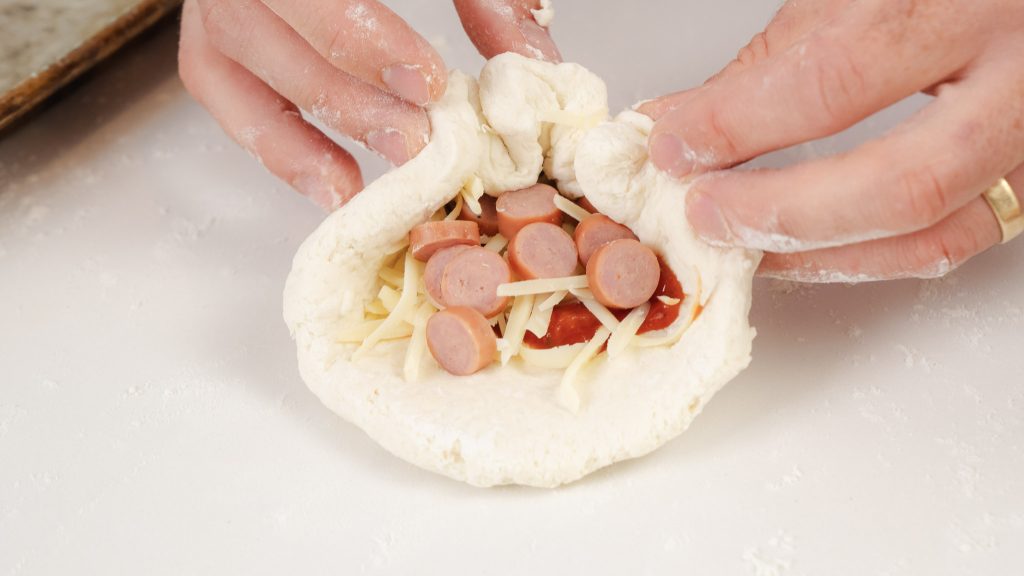 Ways to make it your own DIY Pizza Pockets
The best part about this recipe is how customizable it is. We went with the classic flavours of mozzarella and pepperoni, but there are so many ingredients to explore!
Think of your favourite toppings, give them a rough chop and toss them in. I'm going to try a Hawaiian and a Mediterranean version!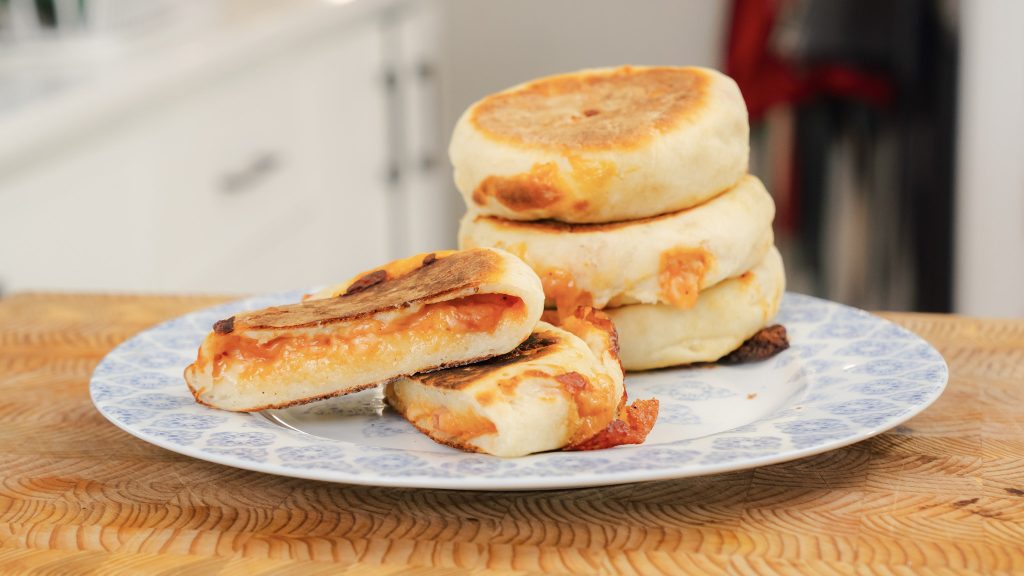 Tips on nailing these DIY Pizza Pockets
You should know a few tips before making your DIY Pizza Pockets.
An even ball goes a long way- Make sure that each of your eight dough balls is of equal size or weight. The best way to do this is to weigh out your finished dough and divide it by how many portions you want. So, in this case, eight balls of dough. This will make sure they cook evenly and at roughly the same time.
Keep the heat loooow- We don't want undercooked dough. We want to take our time developing that beautiful crust and cooking the dough thoroughly. This will also give us ample time to transform the filling into hot, cheesy goodness.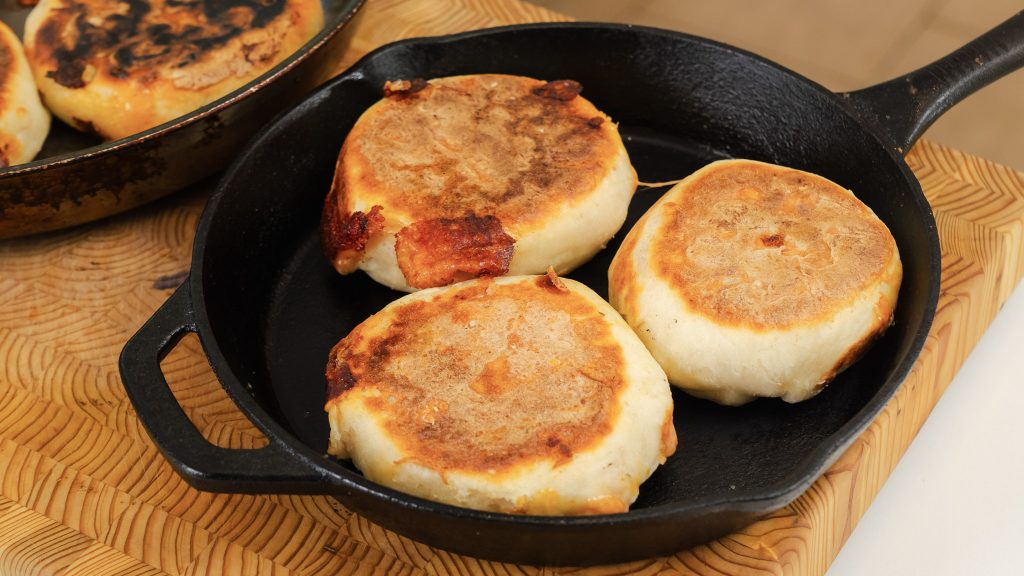 Other recipes to check out
If you like the sound of these quick and easy DIY Pizza Pockets, here are a few other family friendly recipes we think you're going to love.
Boursin, Broccoli, Mushroom, White Pizza.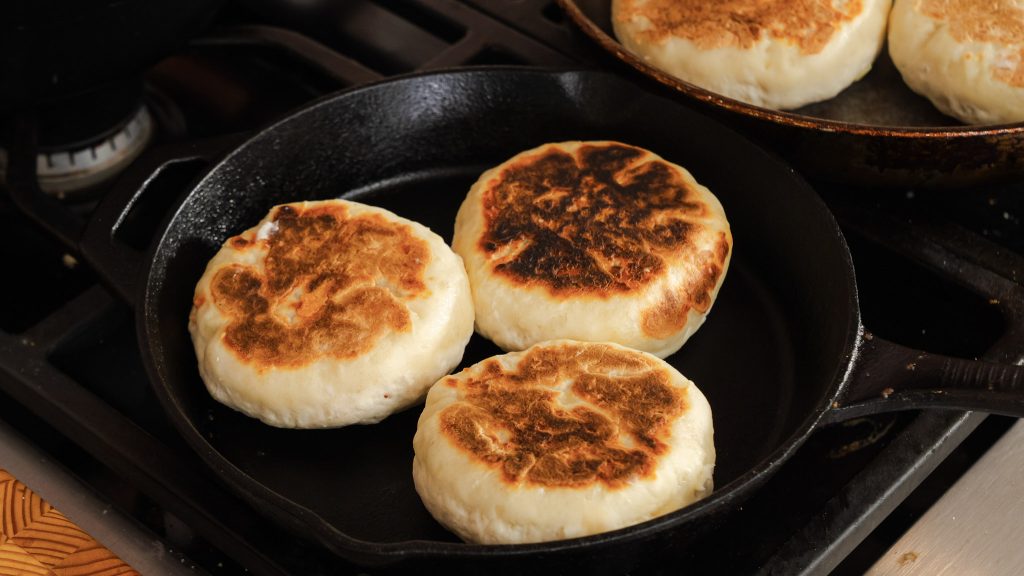 DIY Pizza Pockets
Print Recipe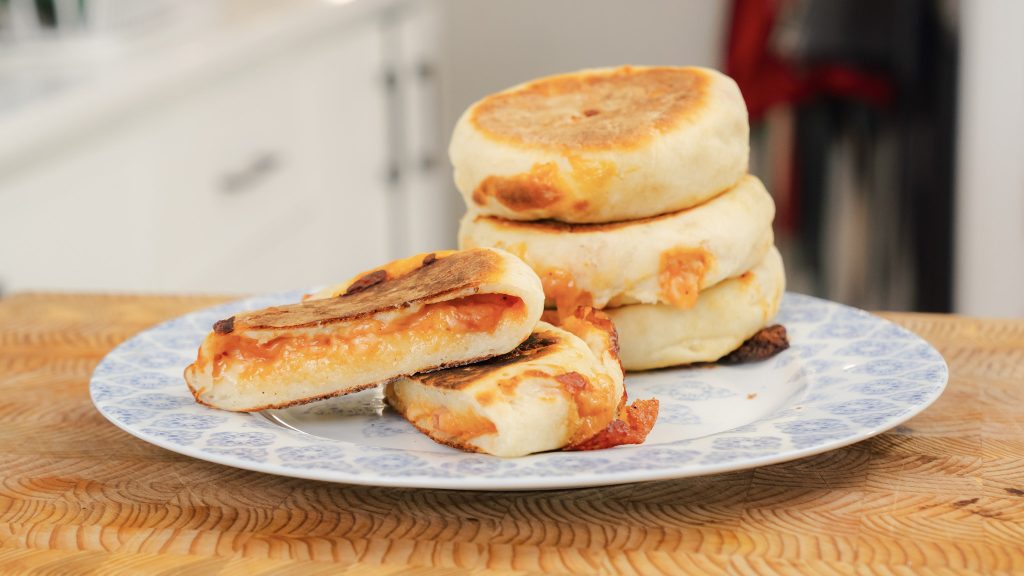 Ingredients
For the dough
3

cups

Flour

3

cups

Greek Yogurt

3

tbs

Baking Powder

2

tsp

Kosher Salt
For the filling
1

cup

Shredded Mozzarella

1

cup

Pepperoni

Sliced

1

cup

Tomato Sauce
Instructions
In a bowl mix together flour, greek yogurt, baking powder, and salt. Mix with a wooden spoon and then tip onto a lightly floured work surface and knead until dough is smooth.

Divide the dough into 8 equal balls.

Flatted dough balls and then drop 1 tbs of sauce, 1 tbs mozzarella, and pepperoni into the center of the flattened dough. Using your hands, fold the sizes over to seal in the pizza toppings. Flatted out the ball to make a burger or hockey puck shape.

Place a pan over medium low heat and place the pizza buns onto the pan. Cook each side for around 7-10 minutes per side.  Make sure temperature isn't too high or they will burn. Take your time with this process.

After about 15-20 minutes on the pan, remove and ENJOY! How fun are these!
Print Recipe
(Visited 2,303 times, 61 visits today)