You have to try this famous spinach salad with a twist. We love salads over here at our house. Tons of nutrients, packed with flavour, and a solid amount of protein to boot. The kicker here is the crispy white beans. They add a lovely layer of crunch and pack a serious nutritious punch bringing this whole salad to the next level.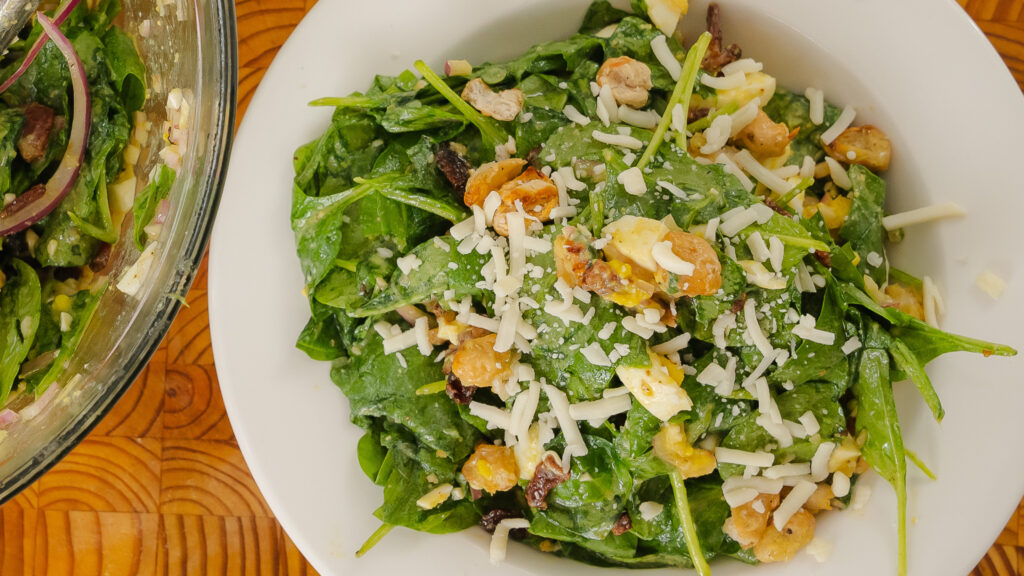 If you have been around here for a while you will know I love a good salad. I am on a constant quest to make more interesting salads to help my family and yours eat more veggies! I am really happy with this spinach salad. It very much eats as a meal as it is packed with eggs, white beans, bacon, and TONS of spinach.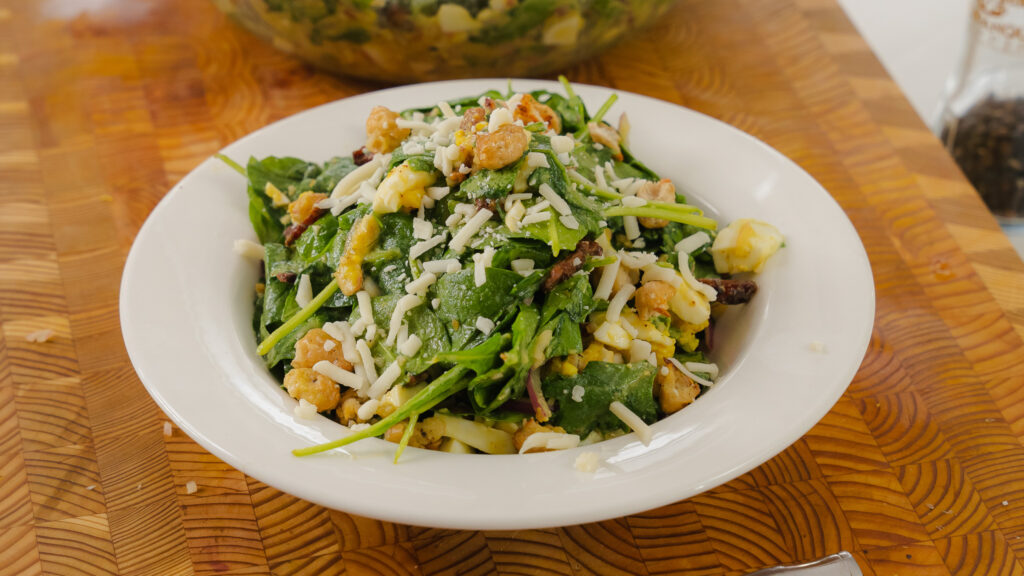 Let's chat dressing
This dressing is a very basic vinaigrette that I used for a lot of my salads I make at home. Nothing fancy, but it has great balance and is perfect with basically any salad you whip up at home. To make it you need to add minced garlic, minced shallots, dijon mustard, maple syrup (honey works too), salt, pepper, and apple cider vinegar to a bowl. Next stream in olive oil while stirring constantly. That is it! Taste and adjust the seasoning as you see fit. Trust your taste buds!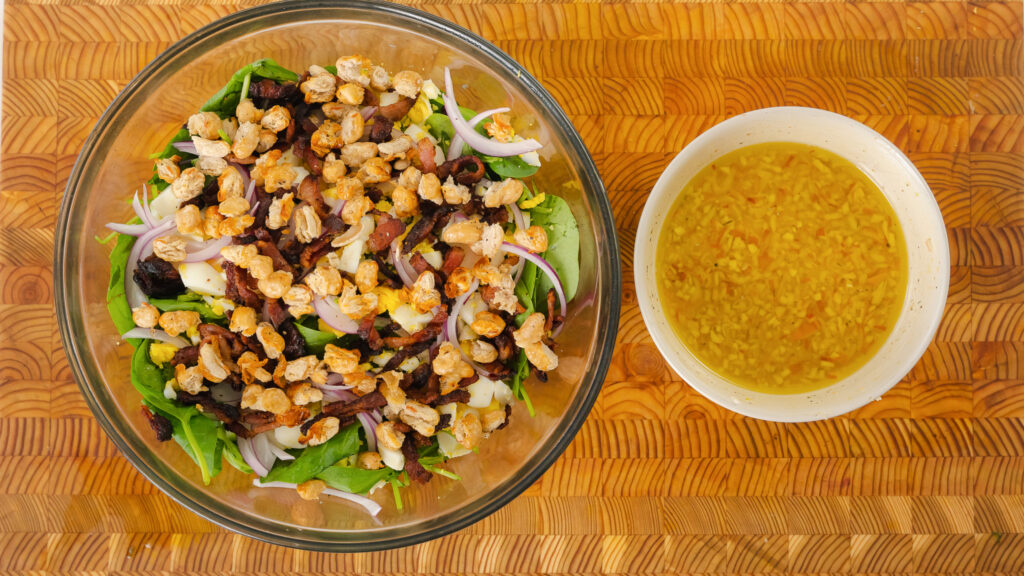 Let's breakdown the ingredients for this spinach salad
Spinach
Red onions
Bacon
Boiled eggs – Place your eggs gently into simmering water. Let them simmer away for 7-9 minutes and then pour out the water and run cold water over your eggs. Remove the shells and chop
mozzarella cheese
crispy white beans – Drain and rinse your can of beans and then pour the beans onto a baking tray and season with olive oil, salt, and pepper. Pop the beans into the oven for an air fryer for 15-20 minutes or until they are crispy.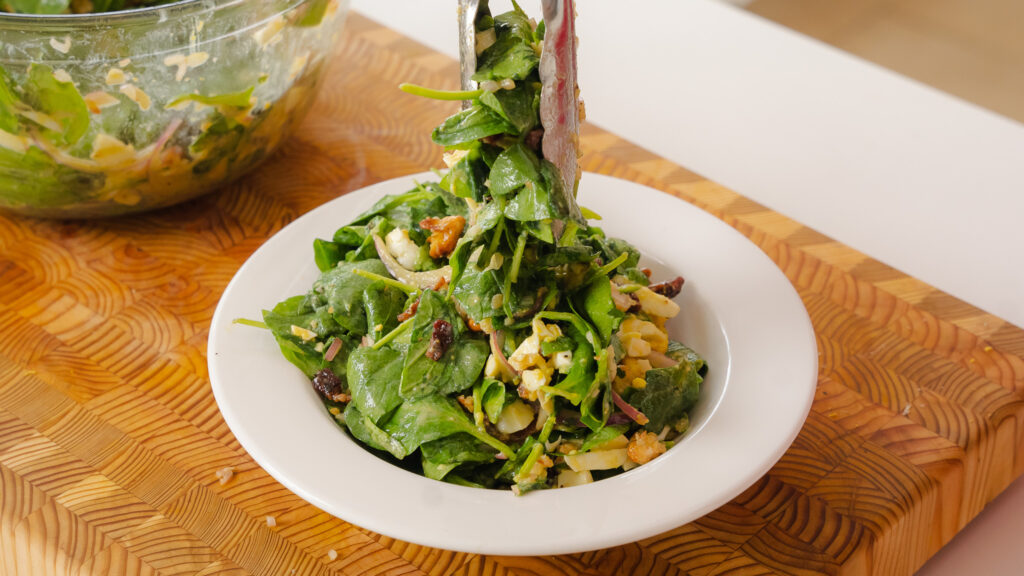 Want a few other salads to try? Check these out
Famous Spinach Salad
Print Recipe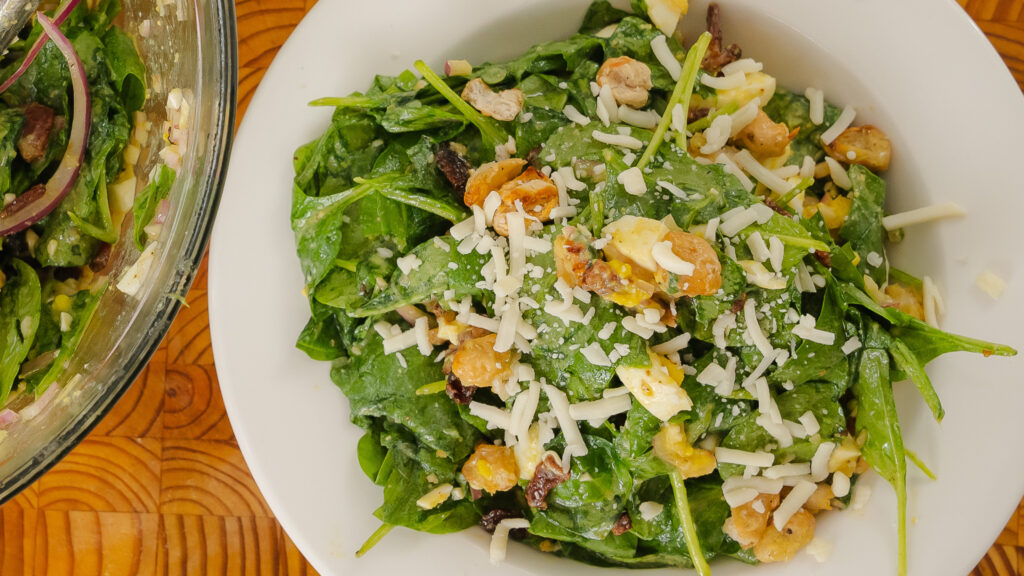 Ingredients
6

cups

baby spinach

1/4

cup

red onions, thinly sliced

4

eggs, hard boiled and shells removed

3

slabs

bacon, cooked and crumbled

1

cup

mozzarella cheese

1

can

white beans
Vinaigrette
1

clove

garlic, minced

1

shallot, minced

1

tbs

dijon mustard

1

tbs

maple syrup

1

pinch

salt

1

tsp

pepper

1/3

cup

apple cider vinager

2/3

cup

olive oil
Instructions
Place the eggs into a simmering water and cook for 7 minutes. After 7 minutes drain out the water and run cold water over the eggs. Once the eggs are cooled, remove the shells and chop the eggs.

In a large pan place over medium heat. Cook the bacon until crispy. Remove from the pan and drain on a piece of paper towel. Crumble bacon and set aside.

Grab your can of white beans and drain out the liquid. Rinse the beans and then pour onto a baking sheet. Season with a olive oil, salt, and pepper. From there, pop the beans into an air fryer or oven preheated to 435F. Let cook for 15 minutes or until the beans puff up and get crispy. Remove from oven and set aside.

Now it is vinaigrette time. In a bowl add in the garlic, shallot, dijon, maple, salt, pepper, and apple cider vinegar. Next, stream in olive oil while whisking constantly. Taste and adjust seasoning as needed.

Assembly time! Add in the spinach, red onions, mozzarella, crispy beans, bacon, eggs, and then pour over the vinaigrette. Toss and enjoy that one!
Print Recipe
(Visited 8,300 times, 2 visits today)