This creamy one pot French Onion Soup Pasta is super easy to make and combines one of the worlds best soups with pasta! Sounds darn good to me! This pasta is rich and creamy, with sweet caramelized onions, toasted bread crumbs, and gruyere cheese. Simple, delicious and easily adaptable for vegan and gluten free.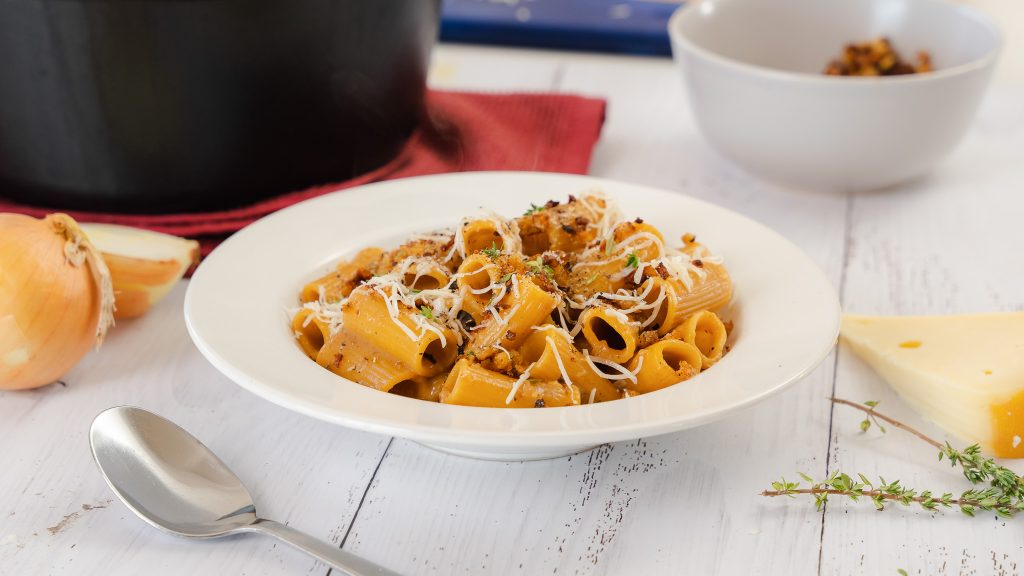 How to Make One Pot French Onion Soup
Inspired by classic French Onion Soup, this one pot pasta recipe begins with caramelized onions. While it may take a while to achieve that deep golden brown colour, the amazing savoury sweetness that it's going to add to the pasta makes everything worth it so don't rush the process. Low and slow will get the job done!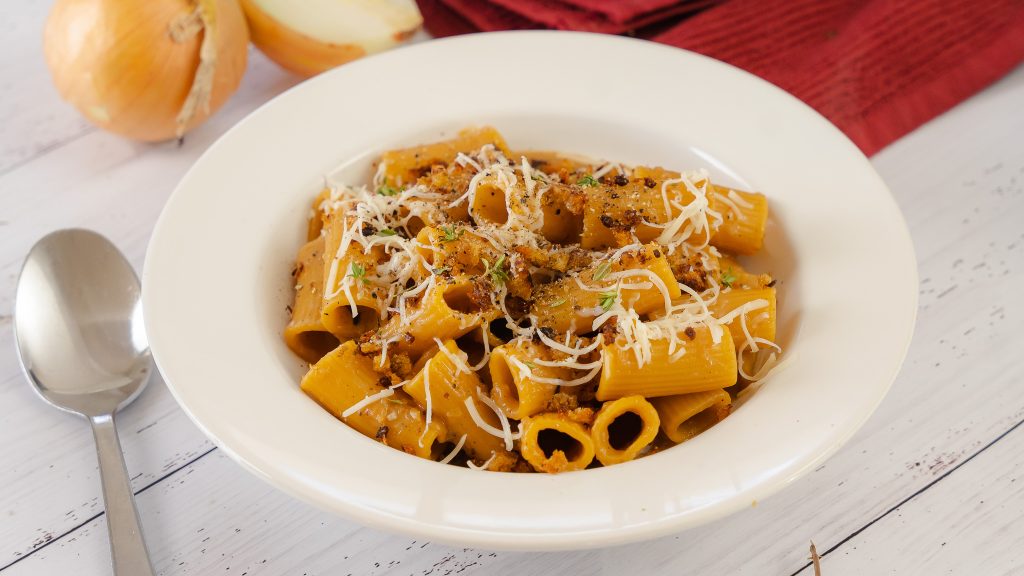 To caramelize the onions, thinly slice yellow onions and drop them into an oiled dutch oven or high walled pot. Place the skillet over medium heat and sprinkle with salt. Allow the onions to do their thing. They don't need much intervention here. You don't want the onions to burn so if at any point they appear dry or beginning to burn, just add in a splash of water and continue cooking. This process will take about 20 minutes and the onions will turn to a beautiful golden brown.
Once the onions have cooked down and become deeply caramelized, it is time to deglaze the pan. Deglaze the pan with a little white wine and use a wooden spoon to pull up any brown bits on the bottom of the pot.
Now we can add in the beef stock and thyme, increase the heat to high and bring the mixture to a boil. Once boil has been reached pour in the pasta, reduce to simmer, and cover the pot and allow it to simmer away until pasta is nice and soft.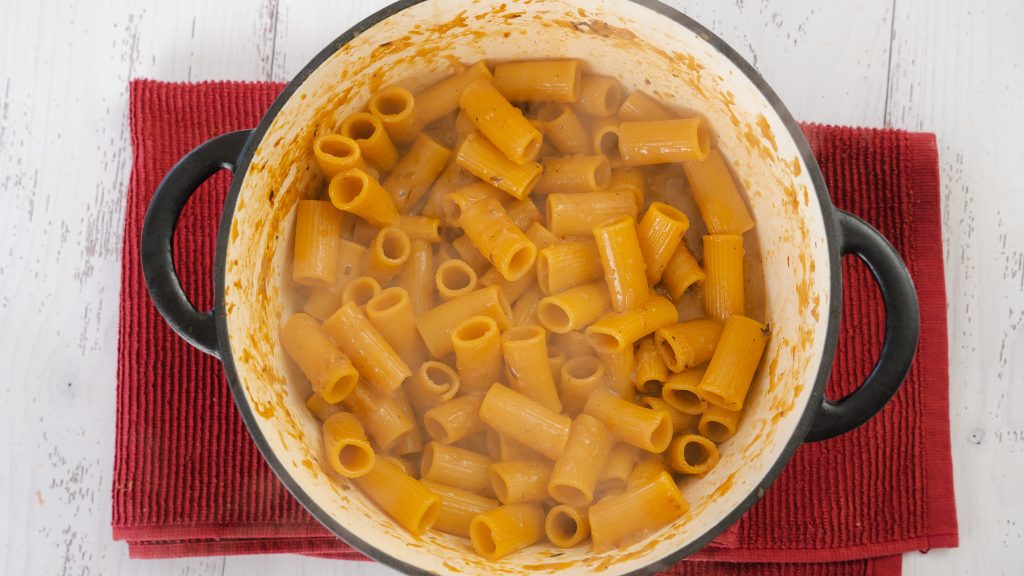 While pasta is simmering you can prepare the toppings. Grate some gruyere cheese and toast some bread crumbs. When pasta is soft add in a 1/2 cup of cream and season to taste with thyme, salt, and black pepper. When serving the pasta top it with toasted bread crumbs and shredded gruyere.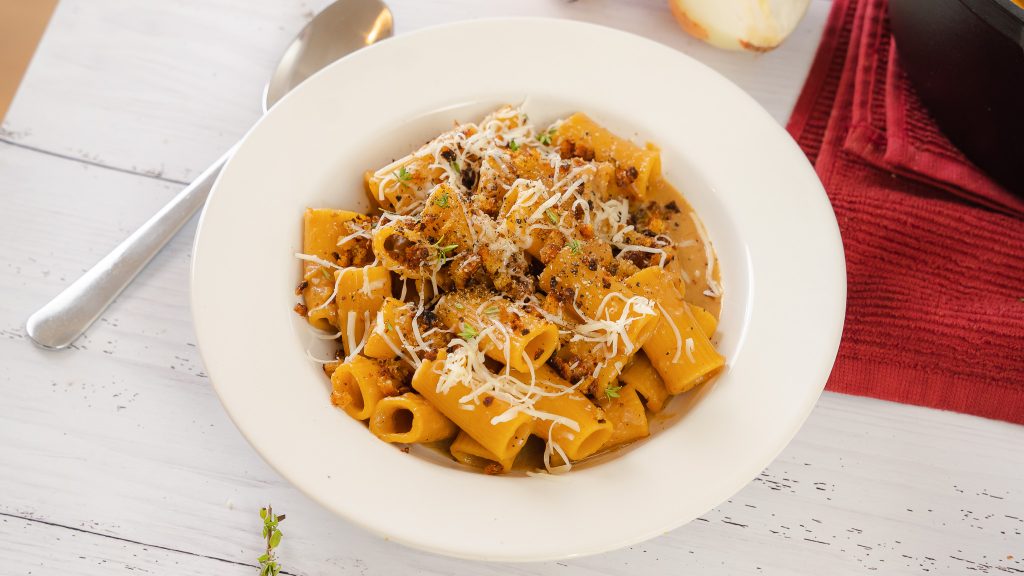 Other soups you may enjoy!
French Onion Soup Pasta
Print Recipe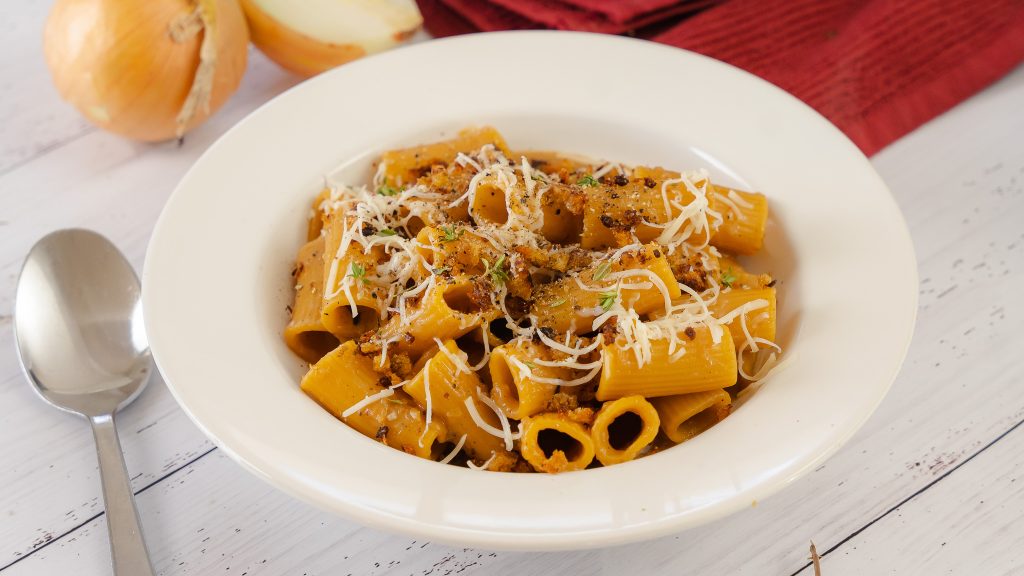 Ingredients
3

yellow onions, thinly sliced

2

tbs

butter

1

tbs

olive oil

1/4

tsp

salt

1/4

cup

white wine

4

cups

beef stock

2

sprigs

fresh thyme

4 1/2

cups

rigatoni

1/2

cup

water

1/2

cup

cream

1

tsp

salt
Topping
2

pieces

bread, chopped up into crumbs

1

cup

gruyere cheese, shredded
Instructions
Place a dutch oven or large pot over medium heat and drop in the butter and olive oil. Once butter is melted toss in the sliced onions and season with salt. Allow the onions to gently caramelize. You don't want them to become dry or burn. Add small amount of water if pot becomes dry. Cook slowly for about 20-30 minutes or until onions or golden brown and mushy.

Increase temperature to high and then add in the white wine to deglaze the pan. The wine will help release any of the brown bits that may have stuck to the bottom of the pan. Allow to sizzle for 60 seconds and then add in the beef stock, water, and thyme. Bring mixture to a boil. Once Boil has been reach add in the pasta and cover.

While the pasta is simmering away, finely chop the bread slices and then drop into an oiled pan placed over medium heat. Stir frequently until bread crumbs are nice and toasted. Remove from pan and place in a bowl for serving.

After the pasta is nice and soft add in the 1/2 cup of cream and stir.

Serve pasta in a bowl and top each bowl with bread crumbs and shredded cheese. Enjoy!
Print Recipe
(Visited 7,301 times, 116 visits today)