This protein packed homemade grilled chicken gyro is perfect meal prep, and a totally delicious weeknight dinner. Perfect for sunny summer BBQ's or for when you just don't want to order any take out. This is going to be a huge crowd pleaser folks, make this!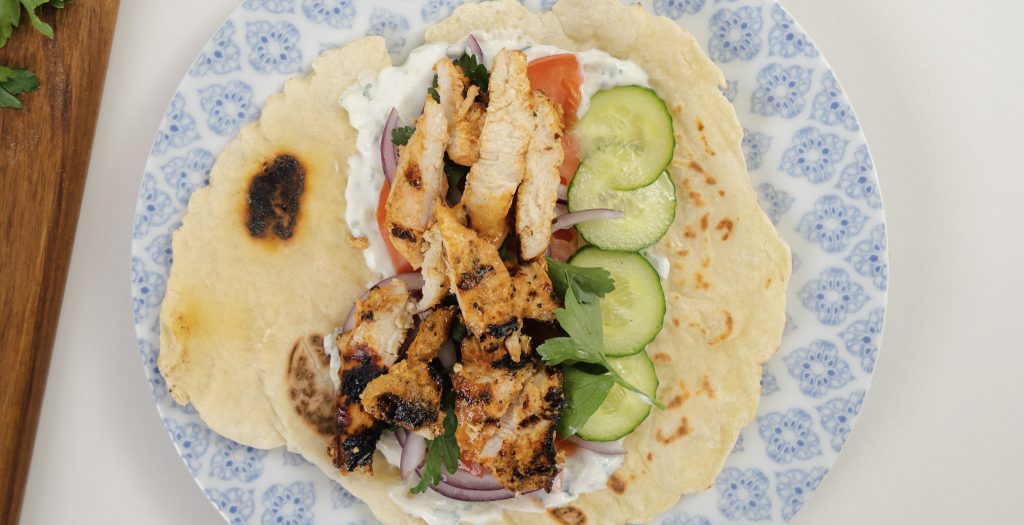 Why marinate your chicken in greek yogurt?
We always want the best out of our chicken. Using marinades is one of the best ways to enhance your protein game, especially when making grilled chicken gyros. In this recipe we use greek yogurt to marinate our chicken. This does two things:
It tenderizes the meat- The enzymes and acidity in the yogurt actually tenderizes the proteins in a more gentile way keeping it from becoming tough/rubbery.
Adds Flavour- With a thicker marinade, you're able to add stronger seasoning because it clings to the meat as its cooking.
Key ingredients
There's one key ingredient i'm sure you've noticed already. Greek yogurt. It's in each of the components of this recipe, and for good reason. Not just because it's packed with healthy fats and proteins, but because of its incredible body and acidity. It helps add a brightness to each step, keeping things rich and creamy, but not heavy.
Its all about the sauce
We're pretty proud of our tzatziki. It's bright, fresh and super easy; we think it should be on every table this summer. Just a few simple ingredients, but does it ever pack a punch and perfect for these homemade grilled chicken gyros
Dice up some cucumber, grate some garlic, toss it in a bowl of greek yogurt and season it with lemon juice and you're done!
Other recipes you should check out
If you liked the sound of this recipe, here are a few more we think you should try.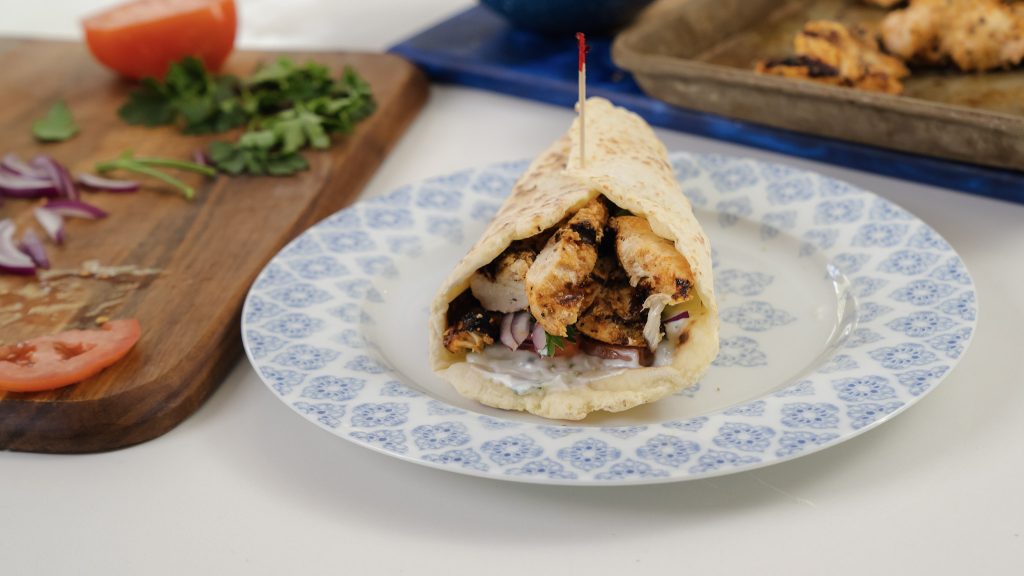 Homemade Grilled Chicken Gyros
Print Recipe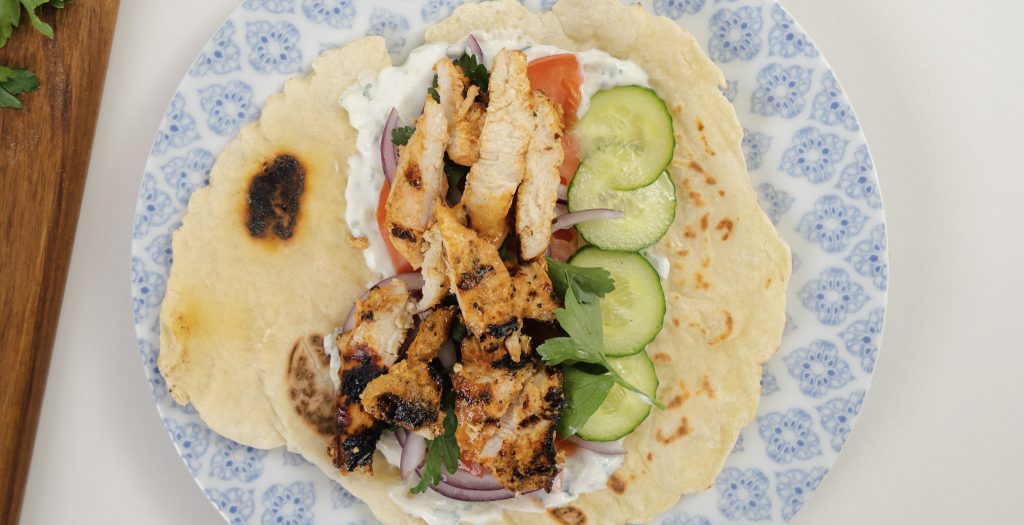 Ingredients
For the chicken
2

large

Chicken breasts

Cut in thin strips

1/2

cup

Greek yogurt

1

tsp

Lemon juice

Fresh

1

tsp

Salt

1

tsp

Cumin

1

tsp

Smoked paprika

1

tsp

Garlic powder

1

tsp

Fresh Garlic

Minced
For the Tzatziki
1

cup

Greek yogurt

1

tsp

Fresh garlic

Minced

1/4

cup

Cucumber

Grated

1

tsp

Lemon juice

2

tsp

Parsley

Chopped
For the Flat Breads
1/2

cup

Flour

1

tsp

Baking powder

1/2

cup

Greek yogurt

1

tsp

Salt
Instructions
In a large bowl mix together the chicken, greek yogurt, lemon juice, salt, cumin, paprika, garlic powder, and garlic. Allow to marinate for 15 minutes and then cook on the bbq or a skillet until cooked through. About 10-12 minutes.

While the chicken is cooking lets make the tzatziki sauce. In a small bowl mix together greek yogurt, garlic, grated cucumber, lemon juice, and fresh parsley. Set aside.

Now the flat breads. In a bowl mix together flour, baking powder, greek yogurt, and salt. Divide the dough into 2 pieces and roll the into flat circles with a rolling pin. Place a large non stick skillet over medium high heat and once it is hot drop on one flat break into the pan at a time. Cook for around 60 seconds per side.

Now time to build the wraps. Smear on the tzatziki sauce, followed by the tomatoes, cucumbers, and red onions.  Now chicken. Roll the wrap and enjoy!

Serve with cucumbers, tomatoes, fresh parsley, red onions
Print Recipe
(Visited 5,887 times, 3 visits today)