If you're craving takeout, you could make this Homemade Wonton Soup in the time it would take the delivery driver to make it to your place. Filled with aromatic flavours of ginger, garlic and cilantro and packed with your favourite store-bought wontons, this soup is going to be a new family classic; I'm sure of it.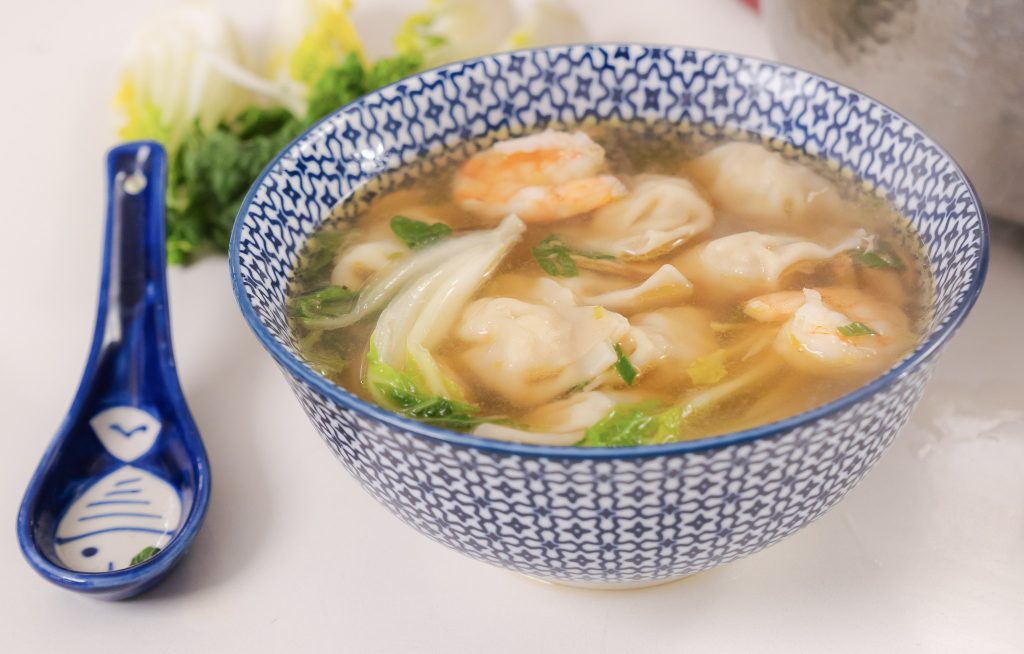 Key Ingredients for this Homemade Wonton Soup.
The base: A good soup needs to have a strong and flavourful base. I use fresh garlic, ginger, onion, and cilantro stems to build up some flavour.
The wontons: Store-bought wontons or dumplings have been a lifesaver in my home. There is such a variety of fillings for you to pick from. You get bonus points if you pick them up from your local Asian Grocer.
The veg: I like to pop in some mushrooms for earthiness and fresh bok-choy to add a bit of crunch!
If you're looking to make a soup like this or any other soup in a larger quantity, you'll want to look at getting a stock pot like this!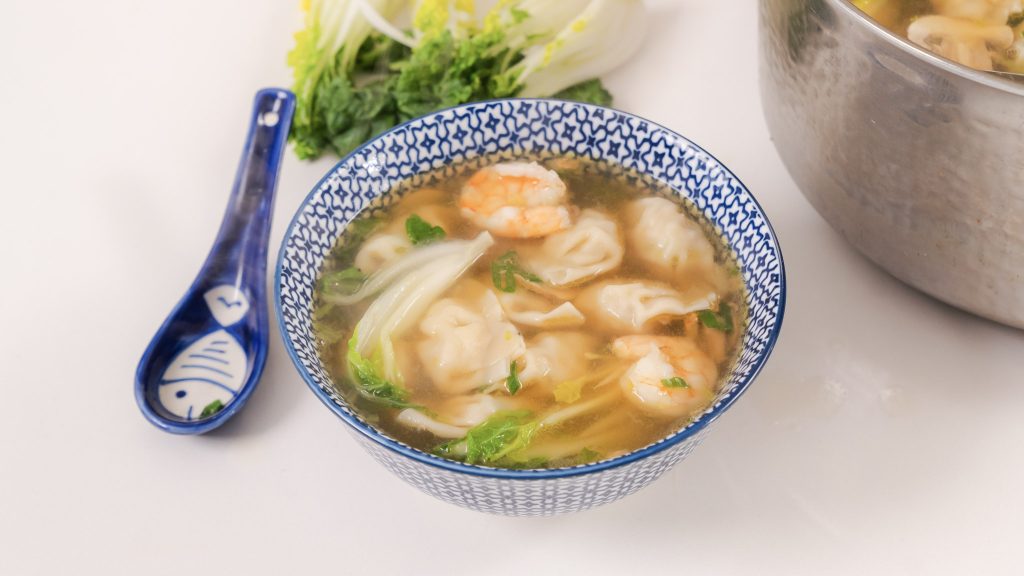 Tip on nailing this homemade wonton soup.
It's all about building flavour from the start. When you add in your aromatics (ginger, garlic, onion), make sure to cook them down to crate as much flavour as possible. It's good to note there is a difference between brown and burnt. Don't let them overcook and start to dry out, as they'll make your beautiful soup super bitter.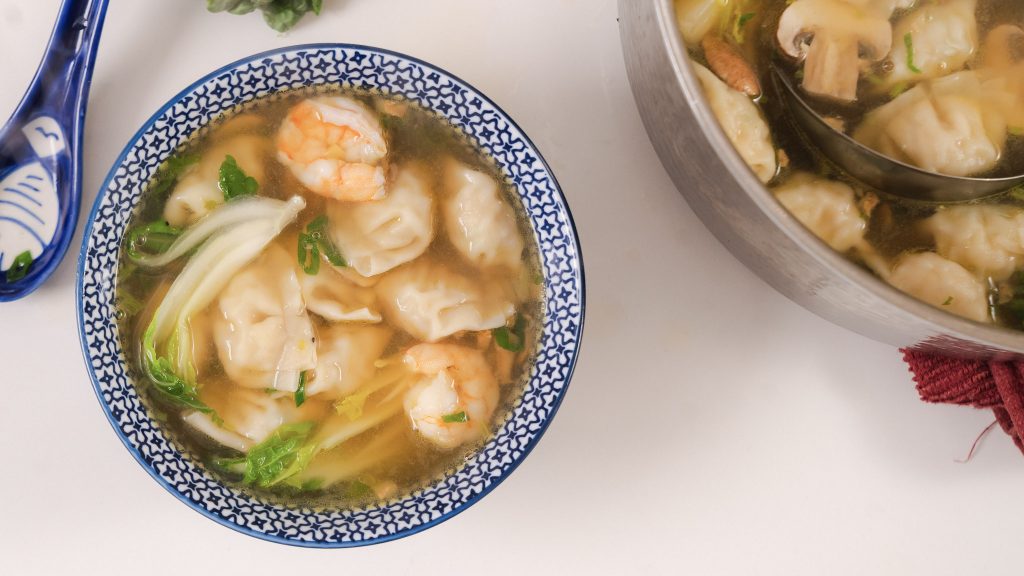 Add what you love.
For this recipe, I added about a half pound of cleaned shrimp. There is nothing I love more than perfectly poached, tender shrimp. Alternatively, you could substitute it for other proteins if you're not a shrimp fan. Using firm tofu would be a great option as well!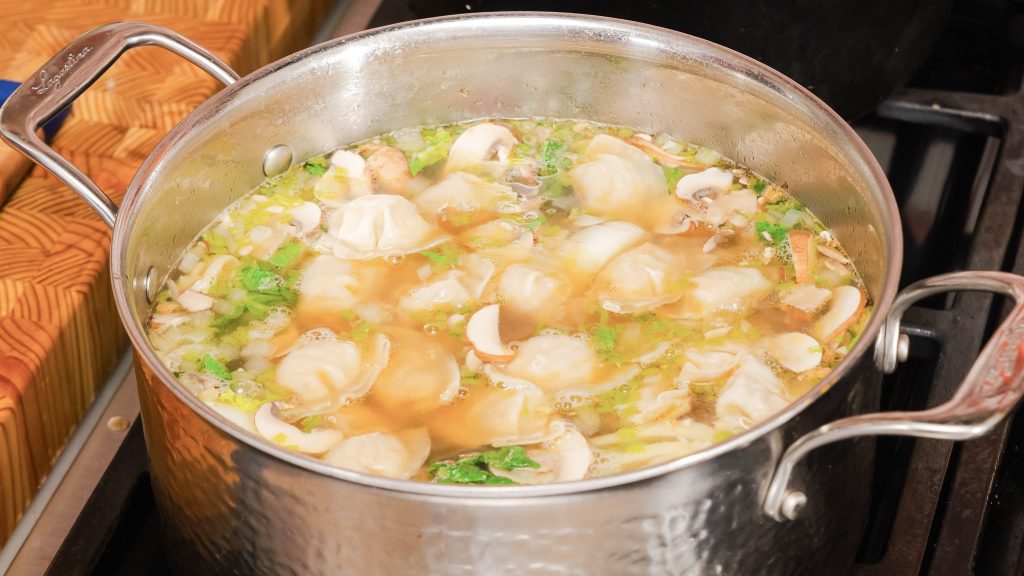 Other recipes you should check out!
If you like the sound of this Homemade Wonton Soup, here are a few other recipes you should check out!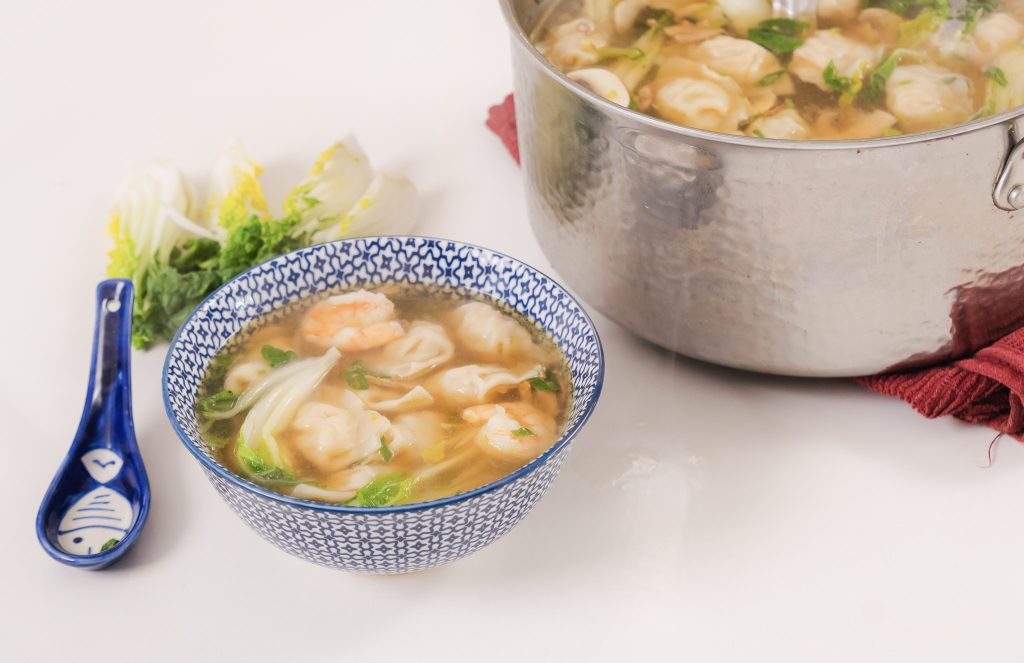 Homemade Wonton Soup
Print Recipe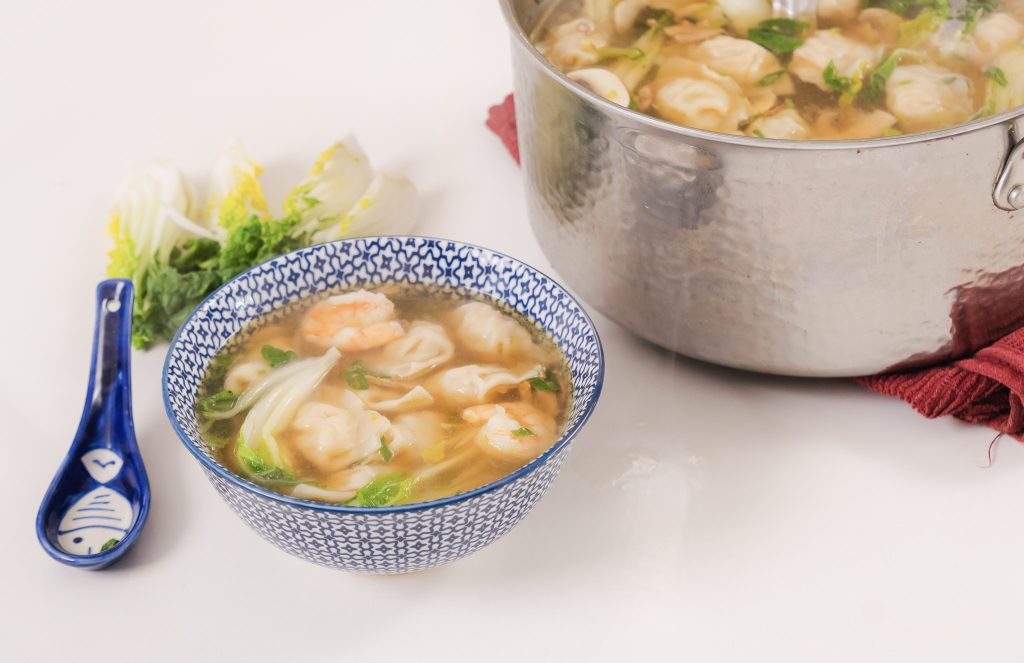 Ingredients
1

tsp

Olive Oil

1

inch

Ginger

Minced

2

cloves

Garlic

Minced

1

large

Onion

Diced

1/4

cup

Cilantro stems

Optional

8

cups

Chicken stock

1

cup

Water

6

Mushrooms

Sliced thin

2

tbs

Soy sauce

1

tsp

Sesame oil

1-1

tsp

Salt

1/2

tsp

Pepper

2-3

Baby bok choy

Quartered

2

tbs

Cornstarch

1/2

lbs

Shrimp

Cleaned and peeled

15-25

Frozen wontons/dumplings

1/2

cup

Green onions

Sliced
Instructions
Into a pot set over medium high heat, add in 1 tbsp of olive oil, ginger, garlic, onion and cilantro stems. Let those get to know each other and saute for 3-4 min or until the onions are translucent.

Add in 8 cups of stock and 1 cup of water, bring to a boil. Once boiled add in 6 chopped mushrooms, quartered bok choy, soy sauce, sesame oil, ½ lbs of shrimp and 15-20 frozen wontons and ½ cup of green onions.

Bring to a boil and allow to cook for 5-6 min. Stir often. Season with more salt and pepper.

Remove from the heat, serve hot.
Print Recipe
(Visited 10,697 times, 180 visits today)