I'm feeling good about this one, folks; this quick and easy 15-minute Mongolian Beef is a hit. Perfect for a weeknight dinner, pop it in a Tupperware and use it as meal prep or beat those late-night take-out cravings.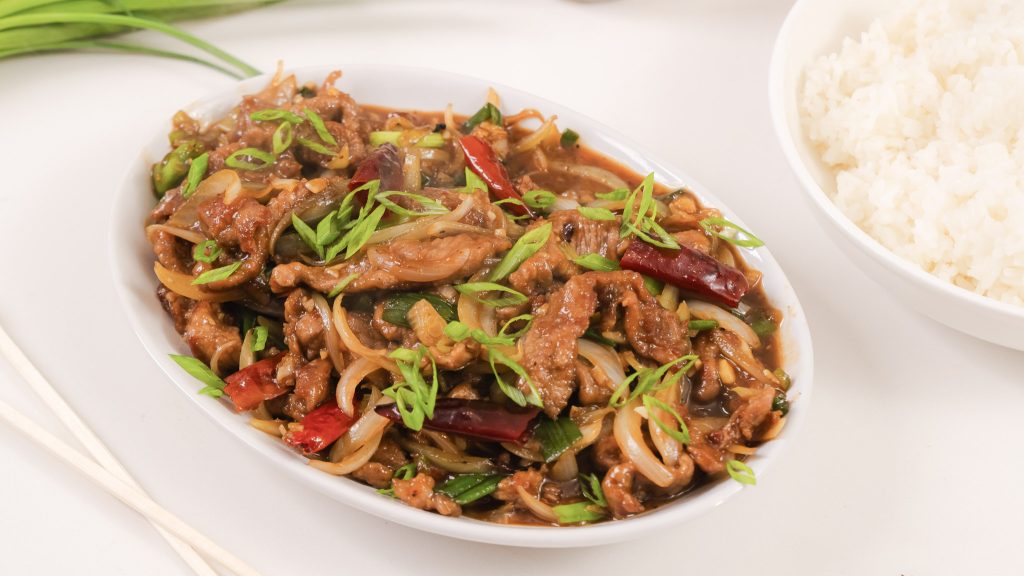 Tips on nailing this Mongolian Beef
Thin slice: We want to ensure the beef is cut into thin, equal strips. This is going to ensure all the beef cooks evenly and has a great texture. The only way to make that happen is to use a sharp knife!
Cornstarch is king: If you want that perfect crunchy texture, cornstarch is the key. It has a great way of clinging to the meat, building a great crunch and doesn't go soggy. 
Let it reduce: The sauce is always the best part, so make sure to get it right. We want to let it reduce to a point where it coats all ingredients and has a beautiful shine. If you think your sauce is a little wet/runny, let it bubble away until it's perfect.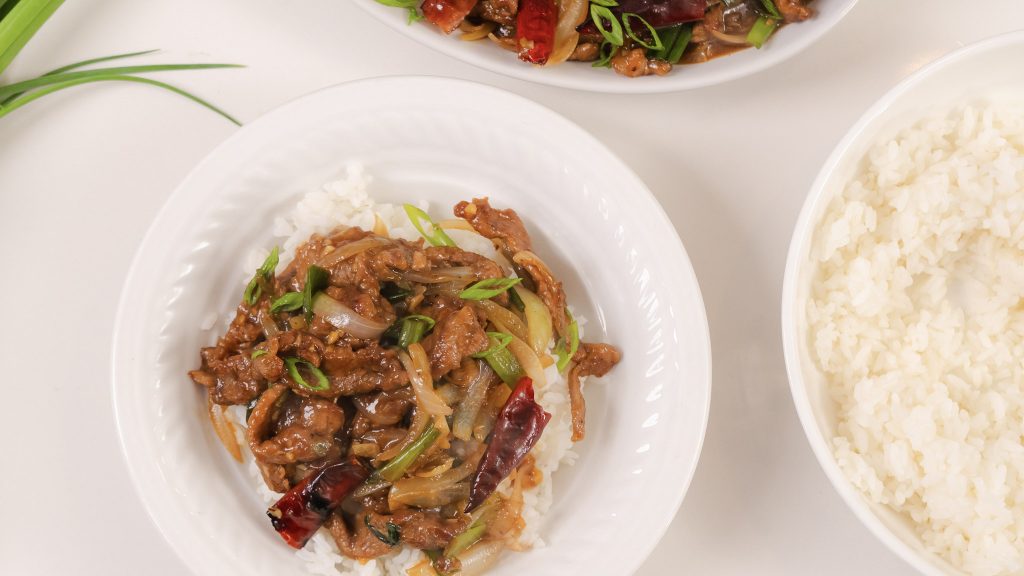 Key ingredients for this Mongolian Beef
Less of an ingredient and more of a tool, but a large ziplock bag will be your best friend here. We want to ensure that all beef is coated in that cornstarch. Using a bag and shaking it will help it cling but not overcoat the meat, as it can get gummy.
The beef you pick matters; ask your local butcher; they would love to help you. Pre-cut stir-fried beef is also a great option if you don't know what type of beef you like!
It's all about the Sauce!
A dish like this requires a killer sauce, one that hits all the notes.
Sweet- From the brown sugar
Salty- From the soy sauce
Spicy- From the chillies
Fatty- From the beef
Umami- From the oyster sauce
Mix all of those, and you have a banger of a sauce!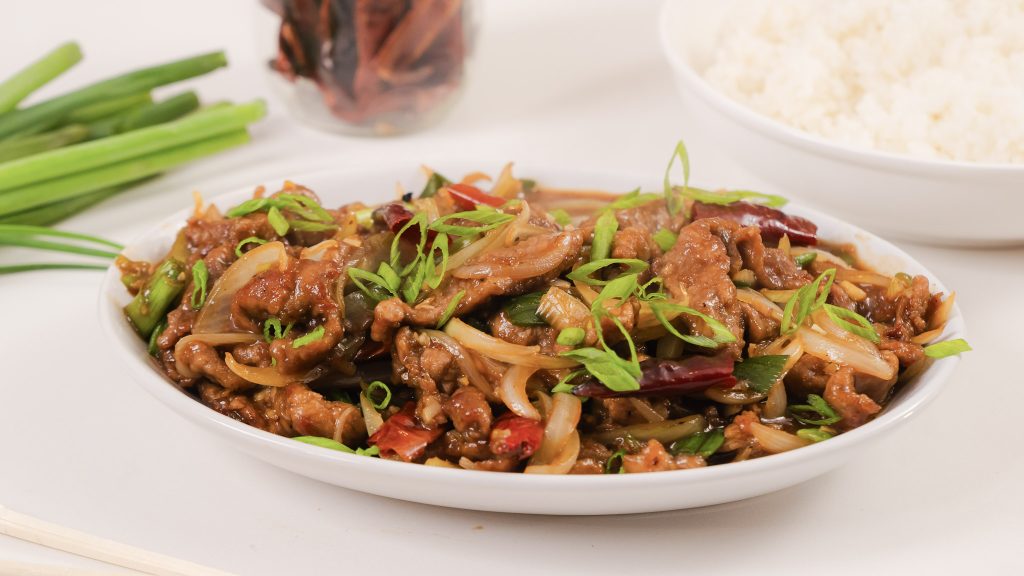 Other recipes to check out!
If you like the sound of this recipe, here are a few others I think you should check out!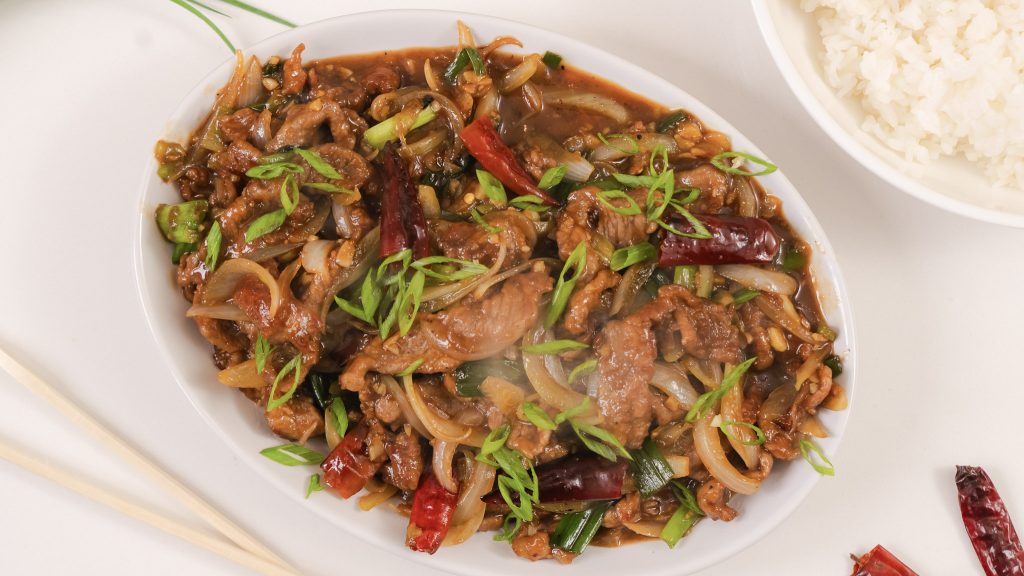 Mongolian Beef
Print Recipe
Ingredients
1

lbs

Stir-fry cut steak

Thinly sliced

1/2

tsp

Salt

1/2

tsp

Black pepper

1/3

cup

Cornstarch

4

Garlic cloves

Minced

3

Yellow onions

Sliced thin

4

Green onions (Just the white bottoms)

4

Dried Chilies

Optional

1

cup

Green onion (Green tops)

Sliced thin
For the Sauce
1/4

cup

Brown sugar

1/4

cup

Soy sauce

1

tbs

Oyster sauce

Optional

3/4

cup

Hot water
Instructions
In a large ziplock bag, add your sliced beef, salt, pepper and cornstarch. Seal tight and shake until fully coated. Set aside.

In a large bowl, combine brown sugar, soy sauce, oyster sauce and warm water. Mix until the brown sugar has completely mixed into the sauce. Set aside.

Place a wok or skillet over medium high heat and add 2 tbs oil. Add in beef, making sure to shake off excess corn starch. Cook until beef is no longer pink, 3-4 min.

Once the beef is cooked and slightly crispy, remove it from the pan and add back in 1 tbs of oil. Let that heat up and drop in your onion, garlic, green onion stalks and chilies. Cook for 2 min and add the cooked beef back in.

Pour your sauce into the pan and allow to reduce until thick and shiny, 3-4 min.

Remove from heat and top with thinly sliced green onions. Serve with steamed rice.
Print Recipe
(Visited 5,820 times, 11 visits today)