If you're looking for a fun fall time snack that will keep you firing on all cylinders, these Pumpkin Spice Protein balls are for you!

Packed with protein, warm autumn species and enough chocolate to make it cravable. The perfect early morning pick me up on your way out the door!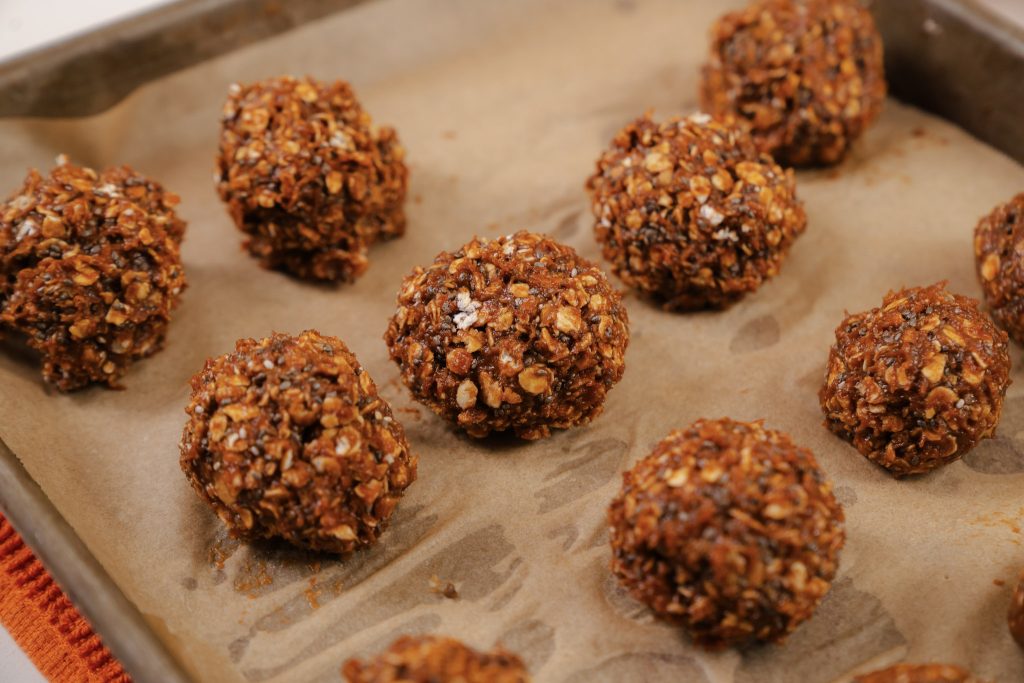 Why I love Pumpkin Spice.
There's just something about the "pumpkin spices" that I love so much. If I could eat them all year round, I would! I always describe pumpkin spice as warm and round. Like a warm hug on a cold day, it just fits the season so well.
Let's break down what spices are used in this super popular blend.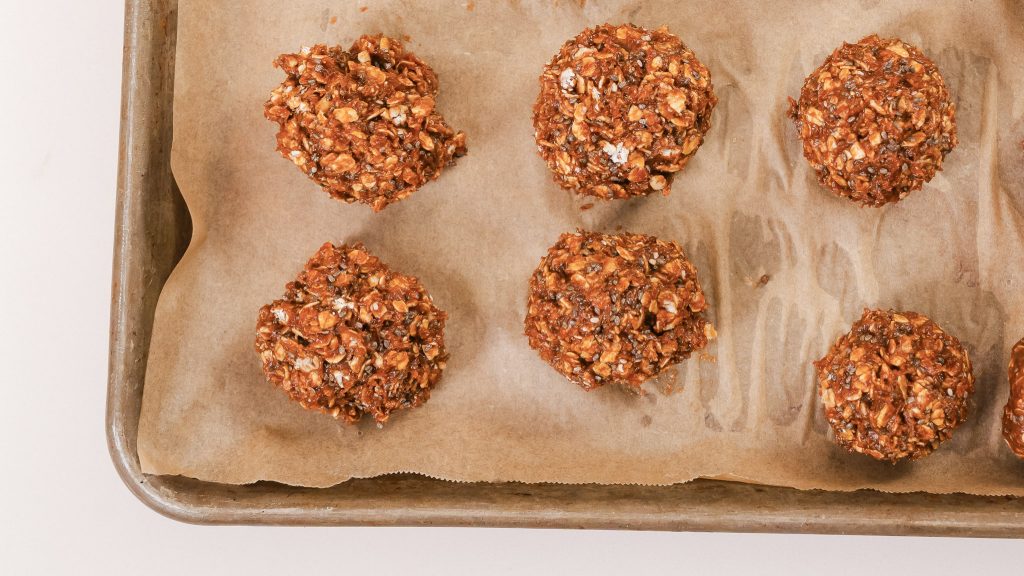 The spice breakdown.
Cinnamon: So important to the recipe; it gives the flavours that backbone and warmth it needs.
Ginger: Always welcome in my baked goods. It adds a spiciness that always stands out.
Nutmeg: A really rich and nutty spice that comes in two different forms. I use ground nutmeg, but it does come in a whole form that is just as flavourful.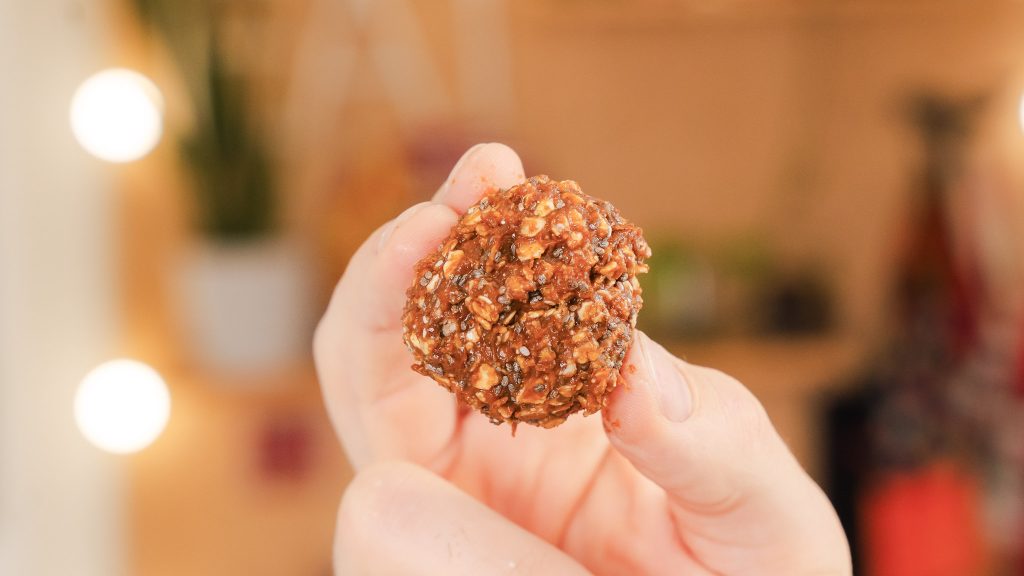 Tip on nailing these.
These are simple and easy to make, but there are a few steps that will make sure they're perfect every time!
1) Mix well. We want to ensure all the protein powder and spices are thoroughly mixed into the dough.
2) Portion is everything. To get the most out of each ball, ensure each is the same size as the last. Using a kitchen scale or an ice scoop is a great way to keep them consistent.
3) Patience is also everything. When you are ready to let them cook in the fridge, take an extra few minutes to make sure they're fully set.
A proper sheet pan also helps, here's a great option if you're in the market for one!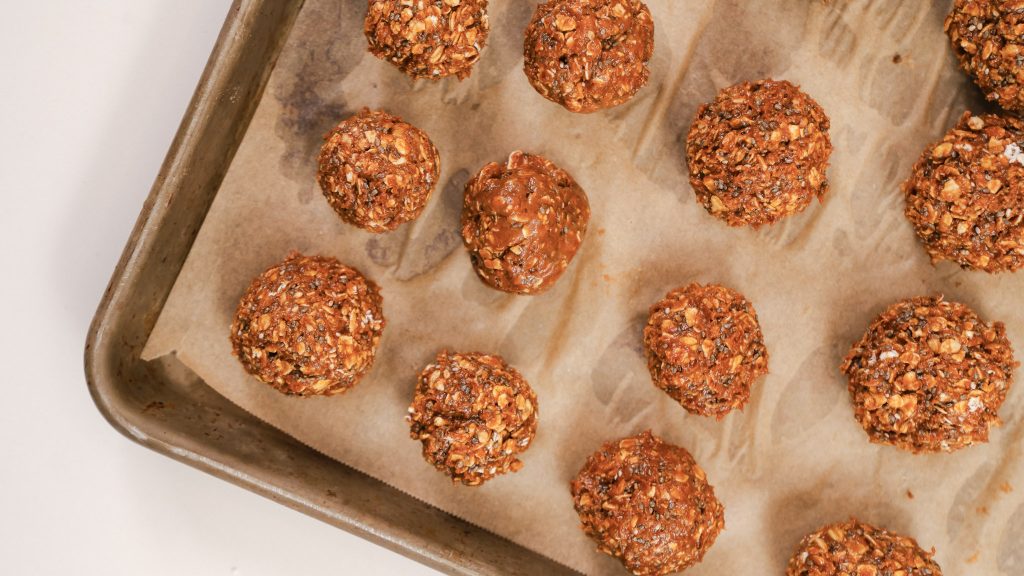 Other recipes I think you should check out!
Chocolate Chip Cookie Protein Balls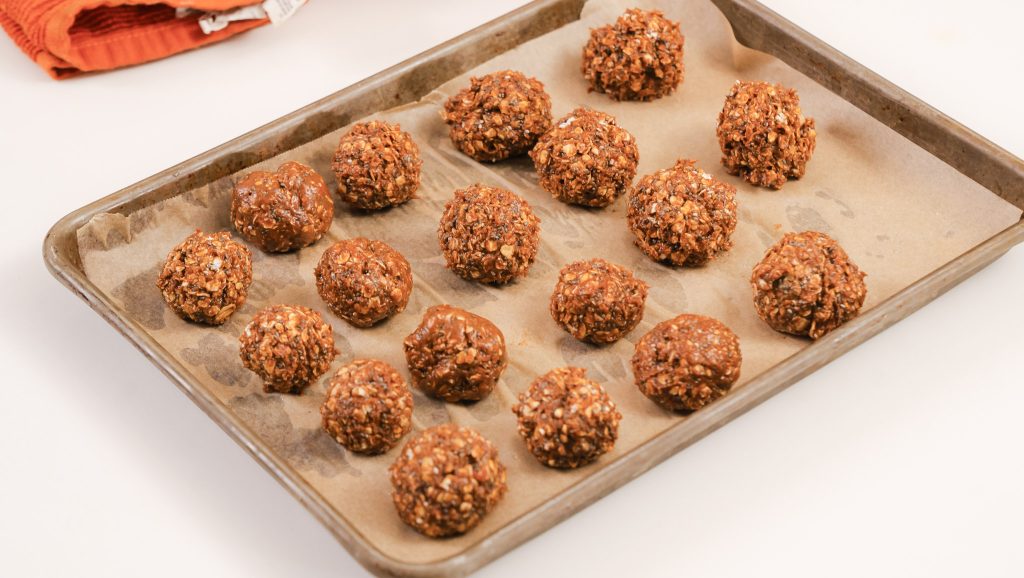 Pumpkin Spice Protein balls
Print Recipe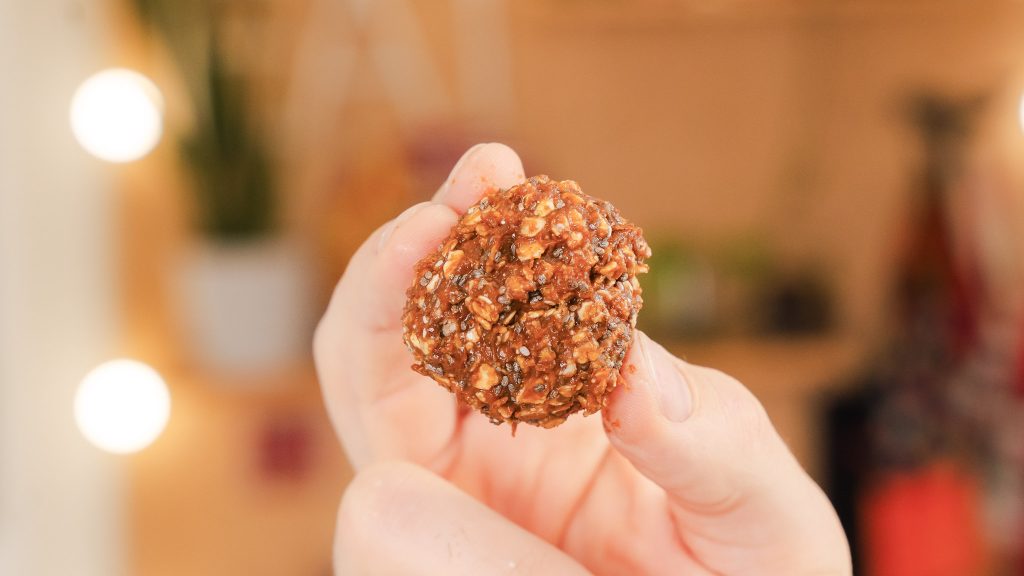 Ingredients
1

cup

Oats

1

cup

Chocolate protein powder

1

tsp

Cinnamon

1/4

tsp

Ginger powder

1/4

tsp

Ground nutmeg

1

pinch

Salt

1/3

cup

Pumpkin Puree

1/2

cup

Nut butter

1/4

cup

Maple syrup

2

tbs

Chia seeds
Instructions
Combine all dry ingredients in a large mixing bowl and combine.

Add in pumpkin puree, nut butter and maple syrup. Combine.

Portion into 18-20 golf ball sized portions. Set in the freezer for 10min or until they've firmed up.
Print Recipe
(Visited 2,706 times, 4 visits today)