These boneless BBQ chicken wings are the perfect meal to whip up to feed a crowd. Easy to make, super satisfying, and a bonafide crowd pleaser even for those picky eaters out there. What I also love about this meal is how kid friendly it is. Made with chicken breast and oven baked until crispy, you can feel good about feeding this to your family.
Making these Boneless BBQ Chicken Wings
First thing we will need to do for these Boneless BBQ Chicken Wings is prep the chicken breasts. Slice the chicken into 2 inch bites. I like to make the cuts irregular so they look as much like chicken wings as possible. From there we drop the chicken into a bowl of buttermilk. If you don't have buttermilk just add 1 tbs of white vinegar to regular milk. Now remove the chicken pieces one by one, allow the excess milk to drain off, and the drop into a bowl of seasoned corn flake crumbs. I like using crushed corn flakes as it results in the best crunch. You could also use panko for similar results.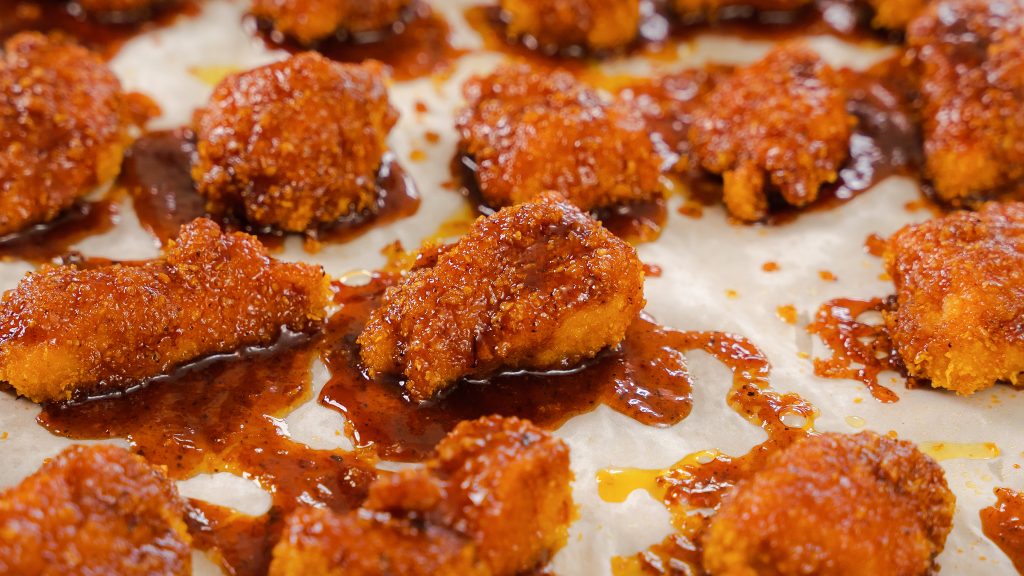 Place the chicken wings onto a parchment lined baking sheet (a good baking sheet pan is a important kitchen tool), being careful not to overcrowd. Fire them into an oven that is preheated to 425F and cook for 15 minutes. Remove, brush on the honey bbq sauce, and then bake for another 5 minutes. That's it!
Honey BBQ sauce
Nothing fancy about this bbq sauce. All I did here was bump up my store bought bbq sauce to make it slightly sweeter with some additional spices. Into a mason jar I added honey, bbq sauce, paprika, white vinegar, and dijon mustard. Give that a shake and you are good to go.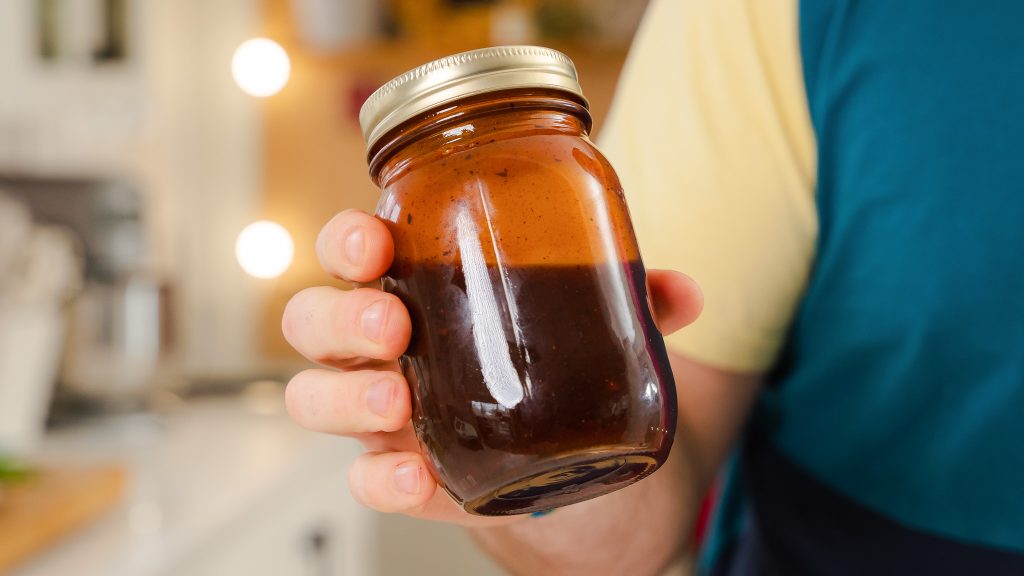 Serving these Boneless Chicken Wings
You can take these boneless chicken wings in many different flavour directions! I like the sweet smokiness of the honey bbq sauce and serving them with ranch dressing. Now my daughters on the other hand, they like them plain with a litre of ketchup…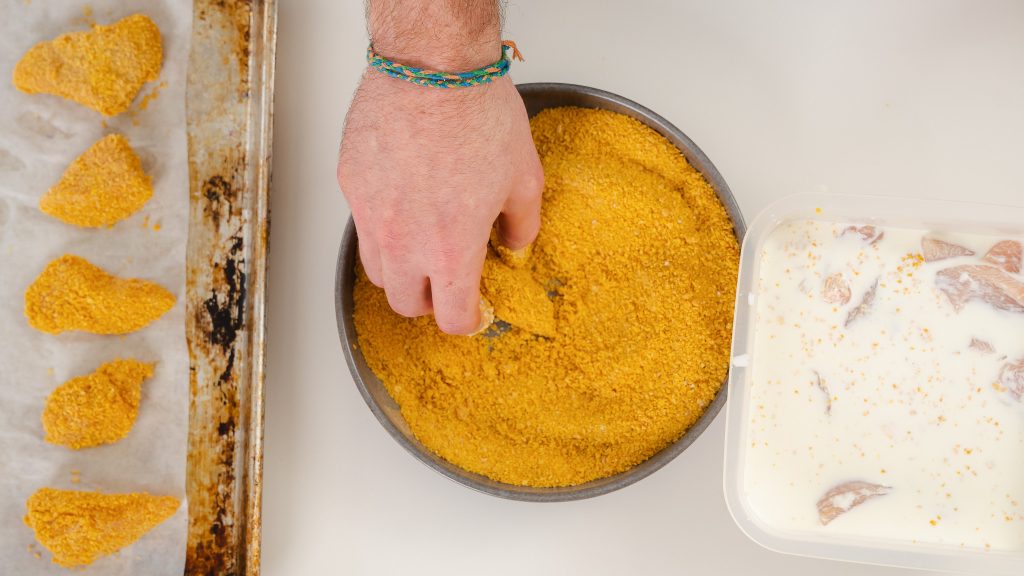 Other family friendly meals you may enjoy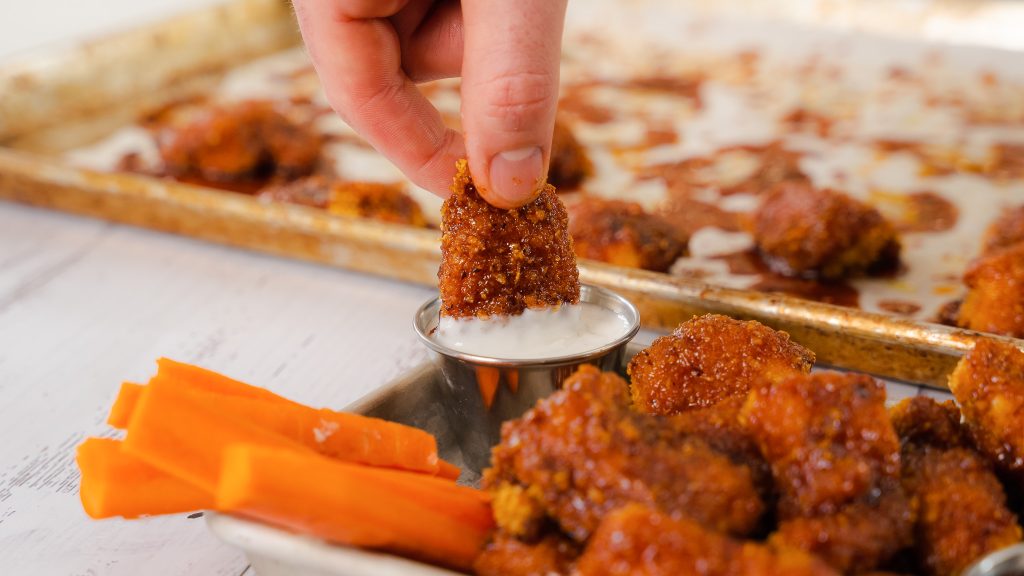 Boneless BBQ Chicken Wings
Print Recipe
Ingredients
4

chicken breast, cut into wing size bites

1

cup

buttermilk

or 1 cup milk + 1 tbs vinegar

2

cups

crushed corn flakes

1

tsp

salt

1

tsp

paprika

1

tbs

olive oil
Honey BBQ Sauce
1/4

cup

honey

3/4

cup

bbq sauce of your choosing

1

tsp

white vinegar

1

tbs

dijon mustard

1

tsp

smoked paprika
Instructions
Slice chicken breasts into irregular "wing" like shapes. Drop into bowl of butter milk.

Season the bowl of corn flake crumbs with salt and paprika

Remove chicken piece by piece from the buttermilk, allowing excess milk to drip off. Place chicken into corn flake crumb and ensure all sides are covered. Place onto a parchment lined baking sheet being sure not to over crowd.

Once tray is filled, lightly drizzle chicken wings with olive oil and place in the oven to bake for 15 minutes.

While wings are baking add honey, bbq sauce, vinegar, dijon, and paprika into a mason jar and shake.

After 15 minutes of baking, brush the bbq sauce onto the wings and then return to the oven for 5 minutes.
Print Recipe
(Visited 5,230 times, 15 visits today)